I've been sort of avoiding commenting on Chris Horner and his situation since……well since, I guess he started racing bikes. I'm a Chris Horner fan. I admit. I like the guy. But, he is most likely going to suffer the fate of all the others that have been exposed to be on the dark side recently and have to pay a price.
Chris, historically, hadn't done too much to draw any individual attention to himself. That obviously changed when he spanked everyone at the Tour of Spain this year. I wrote a webpost a couple months ago, Something is Screwy with Chris Horner, wondering why he would call his shot and say he was planning on winning a Grand Tour when he had never finished on the podium before. I pretty much toned down that post, which I'm probably going to do here, somewhat.
But, the circumstances have changed since then and Chris' situation is in the spotlight. A couple days ago, the New York Times did a piece titled, Anti-Doping Agency Exposed Armstrong, but What About Others? The article goes through a little of the background of the USADA decision, but the meat of the story is pretty much about Chris Horner and his situation.
It isn't like it hasn't been in the news before, but when the New York Times makes serious implications, then everyone should take notice. I'm sure that they contacted Chris to get his side of the story, which they didn't include, so I surmise he didn't respond. I know that you are supposed to be innocent until proven guilty, but in this day and age of cycling doping scandals, it doesn't always work that way.
Cyclingnews did a story back in September titled, Is Chris Horner a redacted name in USADA's Reasoned Decision? They contacted him and asked him pretty much outright if he is the redacted named rider #15 in the USADA report. Chris doesn't answer the question and cuts the interview short. This isn't a good sign for the future of Chris. There are forums all over the internet that address this. (Just type "Rider 15" into a Google search.) If someone calls me up and asks me if I'm a redacted name on the USADA report, I'm going to say, Hell No! That wasn't Chris' answer. Obviously, it is clear that Trek was up to speed with what was going on, so they failed to "offer" Chris a contract.
This makes me go back and think about all the times that Chris has destroyed me, and the rest of the field, over the last 15 years. I've ridden 100's of races with the guy. Trying to put personal bias aside, he'd been doing it a long time domestically before he finally made the successful leap to Europe.
At the 2003 Redlands Classic, Chris, Tom Danielson and Nathan O'Neill, on the final day, the Sunset Loop, rode away, virtually from the gun and nearly lapped the field on a 6+ mile course. Three Saturn riders killing the whole rest of the field. It was a joke. I eventually just quit the race after trying to help Vaughters and his guys chase for a few laps, only to be losing nearly a minute a lap going full tilt. And we know what eventually happened to Tom and Nathan, eventually turning up positive or eventually having to confess. I have no idea why I would be so naïve to think that Chris wouldn't be in the same class.
Later on in 2003, during the Tour of Georgia, Chris had the Saturn team setting tempo up a climb. Everyone was climbing hard when Chris pulled over to the side of the road, relieved himself, and casually rode back up to his slot behind his team. I heard that story from a few different guys. It totally destroyed the morale of nearly everyone in the field. Chris won this race overall.
Like I've said, more than once, I think Chris Horner is a good guy. I've watched him humble himself many times. He rode Cyclocross Nationals two years in a row in Providence. Both years, I had the "pleasure" to watch him hit the ground nearly harder than anytime I've ever fallen in a cross race. I obviously didn't see him again during either of those races. But, he got up and finished both races. Back in the 30's, but he didn't quit. He just went about his business. He is really a blue-collar bike racer.
In the New York Times article, there is a quote from Matt DeCanio, saying Chris told him, "'If everybody's doing it, it ain't cheating.'" That might have been the way of the past, but this is the present and we view it different now.
I view it different now. My personal view is if you are deemed to be positive once in your career, then all your previous results are valueless and should be ignored. That is hard for me to do here, because of my history with Chris, but there comes a time when enough is enough. And this is enough. Sorry Chris, your career has been unbelievable. But, not in the incredible definition, but the not able to believe, unlikely to be true, definition.
I kind of respect the guy, taking the big risk and winning the Tour of Spain, knowing the card house was collapsing around him. He could have stayed under the radar for a bit longer and just went about his business. You know the saying, Go Big or go Home. He went big, but in my opinion, it is time for him to just go home.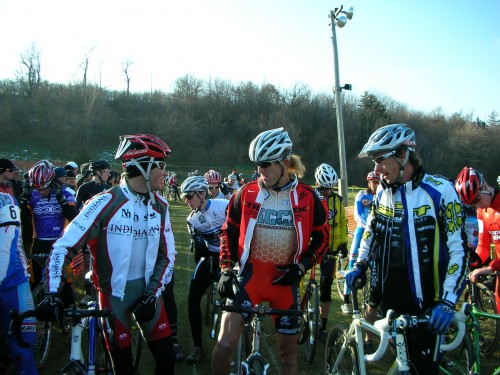 Chris, Todd Wells and me at Jingle Cross a few years back. Maybe Chris can come by Jingle Cross again, next month, for a last hurrah. Only this time as a spectator.