Yesterday I had a pretty strange ride. First thing in the morning I went to see Eric Heiden's wife, Karen, about my hand. She is super good with hands. She said that I need to get a MRI to see exactly what is wrong with it and it would be pretty complicated to actually make it work better. My thumb has a little arthritis on top of being super loose. Anyway, I guess I heard what I needed to.
So, I decided to go for a long-ish MTB ride up to the top of the mountain and ride the Wasatch Crest Trail along the ridge. I started up the same climb as yesterday, the Armstrong Trail (not related to Lance) and just before I got up to the Mid Mountain Trail, I came upon a woman that had her rear wheel out and looked like she needed some assistance. I asked her if she was okay and she sort of hesitated and then said she was having trouble getting her skewer back in the hub.
So I stopped and took a look at it. I'm not sure why the skewer was out of the hub, because she had just flatted and changed a tube. It was the first time she had ever changed a tube and it sounded like it took a while. She broke the valve stem off the first one and had to patch the original tube. Anyway, sometime during the process she had the wheel on its side for a while and had pushed it hard into the ground because the axle was crammed full of sandy clay. Completely full. A skewer wouldn't go in a millimeter. I took out a multi-tool and used a small allen key to try to dig out some of the stuff. It was super hard and I could only get out the first inch and a half from each side. The middle third or so was jam-packed. I finally put the skewer in and pounded the wheel on the ground and the remaining dirt came out. It took me a while to get her going. I rarely come up on a mechanical that I think that I might not be able to fix. At least one as silly as this one was. But, for a bit, I thought that it wasn't going to work. I thought about it later and figured I could of tried filling the axle with water and that might of helped some, but that didn't come across my mind at the time. Anyway, she was very thankful and I went on my way.
So I rode up and then got on the Pine Cone Trail to climb to the top. It is a very nice climb. I got up to the top and it comes out on a gravel road that you have to ride for a mile or so before you get to the top. I was riding up the gravel road and there was a sharp switch back. Standing there was a big family. Two parents and 3 daughters. That was sort of depressing on its own since I'd been climbing for over an hour to get up there. But what was more depressing was that the three kids were pretty fat and that they were on really junky bikes with flat pedals. I'd thought I had done a pretty good ride to climb the 3000 feet up to the top and here was a normal, everyday family just standing there. They stopped me and asked me if this was the Wasatch Trail I said yes, but I'd never ridden it. Then they pointed to a singletrack that went off from the switchback and asked if that was the trail. I had been so consumed about riding the steep corner, plus perplexed by them being there, that I had completely missed the singletrack. I stopped and got out a map and realized that was the right direction. I asked them what they were doing, since the Wasatch Trail is marked difficult on the trail map and the father said that they were going to ride it over to Canyons.
I found that nearly impossible to believe. It was going to be a 30 mile, hard ride for me and they had to be going less than 1/2 my speed. One of the daughters pulled out a tupperware container out of her backpack and started eating a big thing of macaroni and cheese. It seemed so surreal. Pretty depressing on my part. I wished them good luck and started down the trail.
I thought about it for a while. It was depressing because I thought I'd ridden high enough that I wasn't going to see anyone but a pretty fit athlete the rest of the day. It would sort of be like climbing Mt. Everest and getting up to the last technical section, near the top, and some guy comes walking up in shorts, smoking a cigarette, asking which way to the top.
I guess it was great that the family didn't have any limitations and were just going to try it. They seemed way over their heads in my estimation. I rode the ridge trail for just a mile or so and came upon a super technical, off-camber sand stone area. There is a zero percent chance that they could have went past this point. It would have been nearly impossible for them to ride the section or walk the section. I think they were lucky that part came so early in the endeavor because obviously they didn't have any knowledge of the area. There wasn't a turn off for 12 miles. At least a turn off that got them back down towards where they came from. I wish I knew where they ended up.
The rest of the ride was great. Great views from the top. Great single track descent. I rode down to the Red Pine Lodge, got a coffee, then rode back to the Holly Trail and descended into Canyons. It was just about 30 miles. Really great. My butt doesn't think so, but my mind does.
I'm packing up and heading back to Steamboat Springs in a little bit. I'm kind of up in the air about what I'm doing this weekend now. I guess I have another day to decide.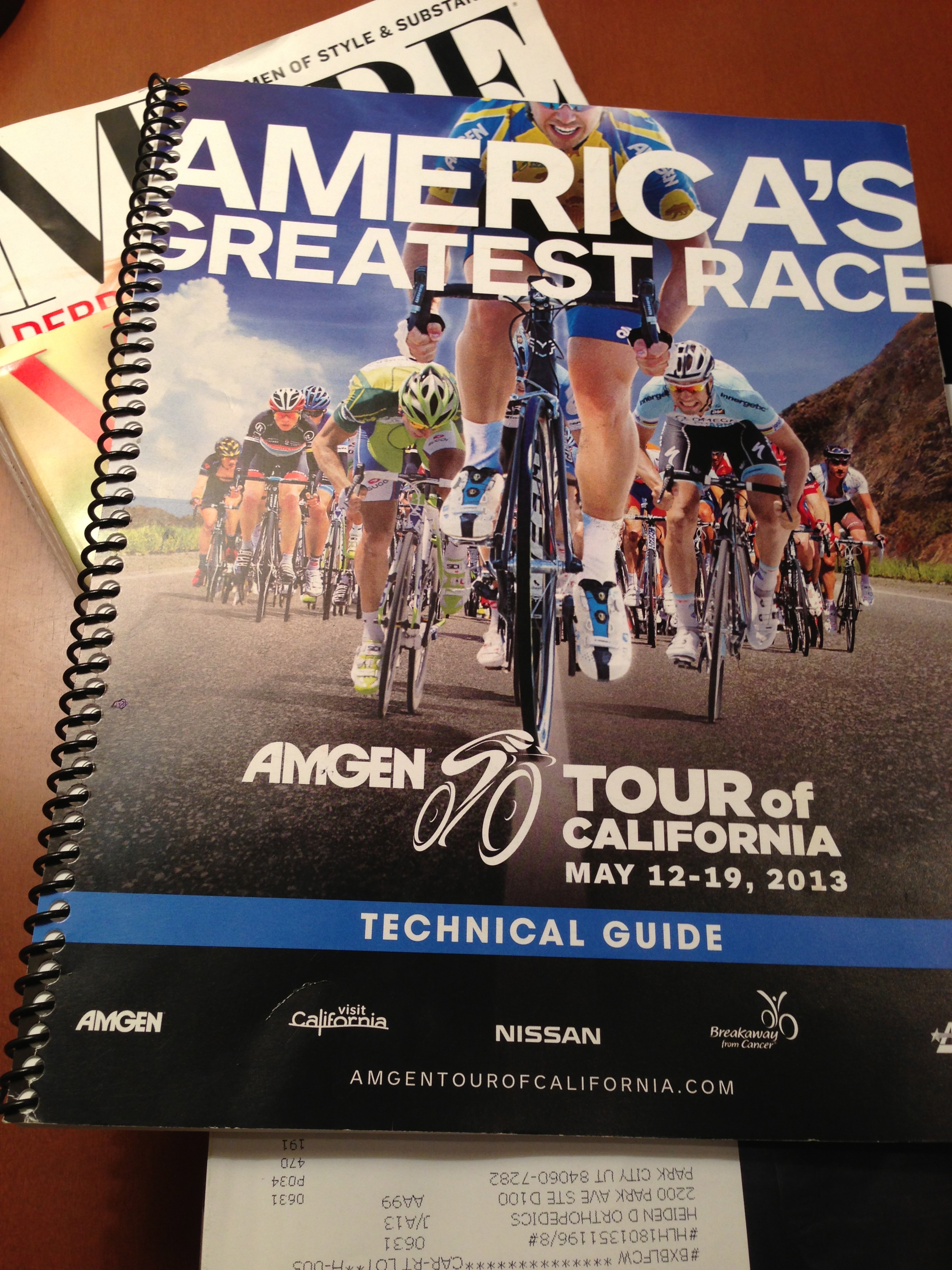 This was in the waiting area of the Heiden's Ortho office. Where else could you go and there is a race bible from the Tour of California mixed in with the magazines?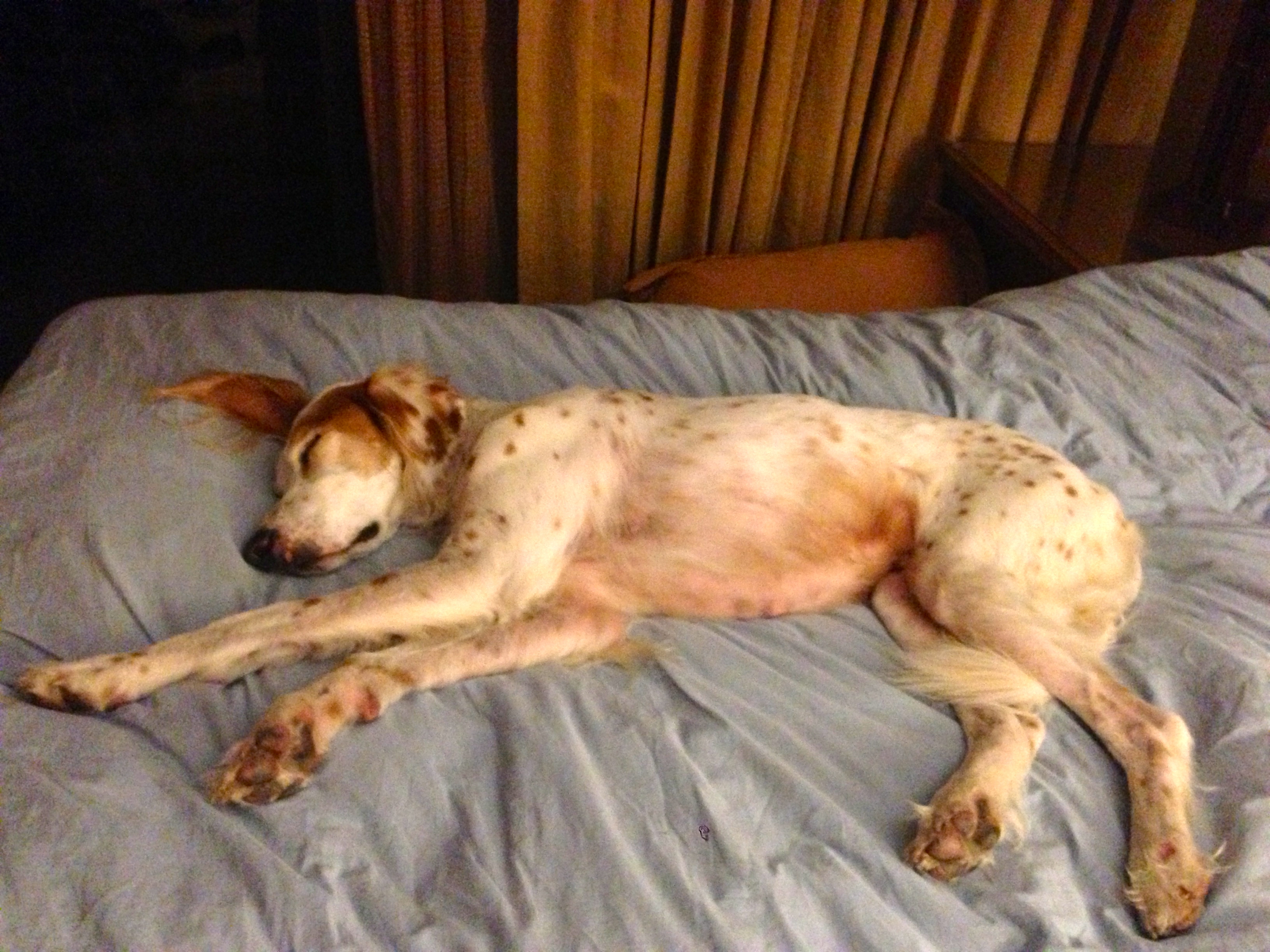 Bromont is the best sleeper in the world.