I've sort of been on the fence, somewhat, about whether there has to be a complete cleaning of house at the UCI or just a decapitation. But, after reading this article at Cyclingnews, I think there has to be a total revamp of the organization. A complete flushing and new organization.
The article is about USADA doing blood testing before the Tour of California. I guess it is for the biological passport program. Whatever the reason, I have no idea why the UCI would announce a blood test before the race, other than to tell the riders and teams that they are doing just that. It is announcing to the guys that they better get their numbers in order.
I saw another article somewhere that said that many riders haven't done a test for the biological passport for over a year and a half. So, I'd assume, many riders are somewhat lax about keeping their blood numbers exact. But, the UCI has fixed that by announcing a pre-race blood test. Anyone come up with another reason for this?
Travis Tygart, USADA's CEO agrees- "You don't want to announce that. That's a PR move, not an effective anti-doping strategy. That tells riders you'd better ensure you don't show up or what you do is not detectable from the passport process."
I'm sick of it. The biological passport is bullshit, as is most of the testing. Pre announcing blood test, weeks in advance of an event, goes to show you just how valueless the program is.
From the release of all these confessions, it doesn't take a brain surgeon to not get caught doping in cycling. Tyler and Floyd did get "caught", but I would bet you a million dollars there was something else going on there, not just positive testing. But, that is maybe buried forever, we'll never know.
Anyway, obviously, the UCI has no intention of changing. I'm embarrassed being part of an organization that condones such actions. Yes, we as members of USAC, which is under the UCI, really are part of it. Maybe it is about time that USAC pulls an Oregon and leave the UCI? Oregon left USAC and the racing there is as healthy as ever, maybe more so. If USAC did that, I'd bet it would get some attention for sure. If not, then I guess it will be the same old BS for a while longer.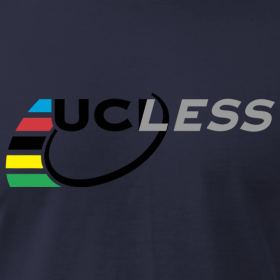 If you want to get a t-shirt with this logo on it, check here at Cyclocosm.