We came in from a 55 mile ride last week and it was a pretty normal day here in Kansas. Something like 104 degrees, but dry. It only got muggy recently. Anyway, the wind was blowing pretty good too and even though 15 people started the ride, there was only 5 left at the end. Everyone else had turned off somewhere along the way.
I was feeling pretty good and was riding hard. It was only 5 miles from where we sprint at the end and there isn't any major hill to break up the group. But, it broke up on its own.
First Jack, who is normally great, but was off, plus riding a 28 lb. cross bike with heavy ass tires, got dropped on something that I never would consider a hill. Then my brother came off on the next rise. That left just Eric, Catherine and I. Catherine demanded to take a pull, just to slow us down. Afterward, she said something like, a good defense is a weak offense. Or something like that. But, she didn't last too long. I was riding around 26 into a head cross wind and Catherine popped after a couple miles.
Just when Catherine was coming off, Eric was saying that he would stay on, but only on the condition that we stopped at the BP station (the sprint) and get some water. So, Eric and I kept going, actually I kept going and Eric just cursed, but we finally got to the end. Eric immediately turned into the gas station and I turned around and joined him.
So, we went into the store and filled our bottles with crushed ice and water. Catherine, Kris, and Jack showed up a couple minutes later. They got water and we started riding slowly the 5 miles home.
I don't know how many times the next 15 minutes I heard the sentence, "This is the best water I've ever had." It was over 5 for sure. By at least 3 people. I have to admit, the water was excellent. Beyond excellent.
Like I posted before, with these extreme conditions, I think you need a bottle about every 10 miles are so. One bottle every 30 minutes seems about right. Obviously, if you only have 2 bottles on your bike and you rode 55 miles, then you are short some liquid.
We all packed too much ice into our bottles, so we ran out of liquid super fast, so we stopped on the bike path, at a drinking fountain, and refilled them less than a mile from my house. And that water was great too. It is sort of weird how few drinking fountain there are anymore. They used to be everywhere, but they are a dying breed, much like payphones.
I can just imagine how a settler felt, 150 years ago, walking across the prairie for days and days, only getting warm water from muddy creeks and rivers. I bet they thought it was just as good as the ice cold water we had after the ride. It is funny how you perceive things in different situations.
We're very lucky we live in a place, and at a time, that you just stop at any convenience store or gas station and fill you bottles with ice. It's not something to be taken for granted.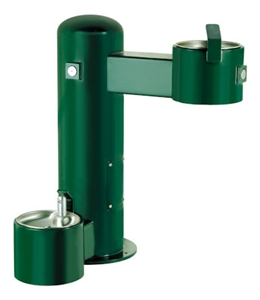 Topeka put these fountains in along the bike path. Dog friendly, but expensive.