The weather turned south down here in Texas. Actually, it didn't really turn south, it has already been south. But, the continued cold fronts and rain are getting a little bit old. I rode in the rain for 2 1/2 hours, the temperatures in the 50's, and then decided that I should probably just head over to Houston tomorrow and race the Texas State Cross Championships and not migrate back up to Kansas. I've been getting a lot of nice emails and offers about coming over to the race and I do need to get some hard efforts in, so why not.
So, I'm not following the weather like I thought I would. It is going to be in the mid 50's in Kansas all weekend, and sunny. But, I'm looking forward to riding those new FMB tires in the mud and I assume that there will be some mud in Houston after all this precipitation.
There is another race, the age graded states in Texas on Sunday and also the Oklahoma State Cross Championships in Tulsa, which is on the way back to Kansas. I didn't get that many miles here in Texas, but in the winter, the weather rules.
Talking about miles, how about Mark Cavendish, in this article, talking about how clean the sport is now, compared to 2005, and how many miles he rides to be able to compete at this level. The number is approximately 31,068.559 miles (50,000 kms.). You know it is pretty hard believing anything that Mark has to say in this article when he spews numbers like this. I have a fair idea of the number of miles that great professionals have done throughout the years, and I've not heard a number like this, especially from a pudgy sprinter. If Mark raced a Tour de France every month of the year, that would be 12, obviously, he would still need to do around an extra couple hundred miles a month, just to get up to the 2600 miles a month he would need to average to get to this number. It's about 85 miles a day, 365 miles a year, no rest days. Mark would do better to make more accurate statements when being interviewed, because when he makes outlandish statements, the rest of his comments seem suspect. Maybe he's only inflating his numbers by 25% or so, but there is a big difference between 24000 miles and 31000.
On the sweeter side of things, Alberto Contodor is getting an award in Spain that is his weight in honey. That is the kind of award I'd love to receive. It is not only his weight, but the weight of 6 of his bikes too, since he's such a lightweight.
And, changing the subject once again, I've been spending a lot of time at the Apple Store down here in Austin. First my computer needed the iPhoto fixed. Then Catherine killed hers by doing a softwear update and having the battery power run out. So we've been going to the genius bar a few times the past week. Those guys are pretty amazing. But, more impressive is the amount of customers that are in the stores. And the amount of money being spent there. I can't imagine Apple having anything but a blowout quarter next time they release their numbers.
Okay. I'm gluing tires this morning and am going to wait until it is semi dry today before I ride. My legs are still a little sore from the riding yesterday. Something about cold and wet zapping leg strength the next day.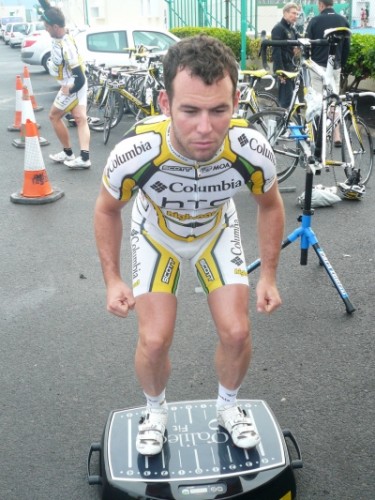 Maybe Mark counts the vibrations he gets from this trainer as miles somehow.