I was beat yesterday. I went on a 50 mile group ride that was super enjoyable, stopping for apple cider slushes in route, but I could barely get out of my own way. It was a little physical, but mainly mental. I was just plain worn out from focusing and concentrating on the Berryman Trail Epic for the past few days.
I had forgotten how fun it was to ride/concentrate for such a long period through the woods. But I had also forgotten how tiring it is. I now remember how I used to be too tired to sleep after many World Cups and NORBA Nationals. That was pretty common back then.
That being said, I love the focus. On and off the bike. I never do well at a race unless I've crossed all my t's and dotted all my i's. Especially a short intense race, such as a muddy cyclo-x or a Fatboy Criterium. When I've covered everything mechanically, the physical usually follows. That's not quite accurate. The physical has to be there, but all the other stuff has to be perfect to allow the full release of the physical.
I didn't realize that I'd missed the concentration, the intellectual part of MTB racing until I was doing it. The full focus of riding singletrack efficiently is only something you can fully realize after you've actually experienced yourself. And there is a big difference between what you're doing just riding or training and that of racing. Racing takes everything up quite a few notches. Of course now, I want more.
Cyclo-X is similar, but just that much different. Not that it isn't as "good", it's just different. Same with road racing. Well, road racing is different. Rainy criterium racing is similar. Road racing involves different intellectual focus. That is one reason I hate the use of radios in the peleton. Nothing removes the intellectual process of the sport as much from individual riders like radios. I like hard circuit races the most of any road events. You get to figure out how the race is going to progress by absorbing all the information from the race over and over again.
I think this is one reason I like construction. It's an intellectual process as well as a physical. There are tons of different ways to do about every process in construction. From framing walls, to laying tile. Each and every guy has his own little tweek of the same job. I've never really worked for a long period of time with a professional group of construction workers. I know I would enjoy it.
So, since I'm hopefully going to have some resemblance of fitness until January, I'm going to keep a lookout for more MTB races and interesting events to fulfill the intellectual fix that seems to be buried in my subconscious.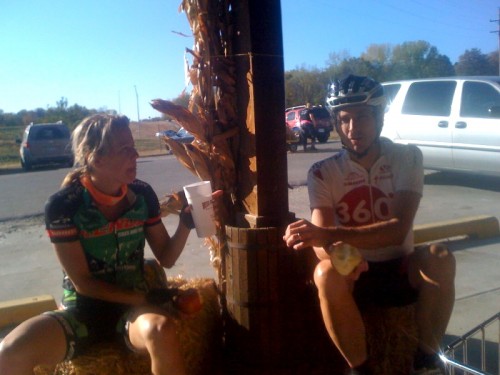 Catherine and Keith sharing an apple cider slush at Rees Fruit Farm.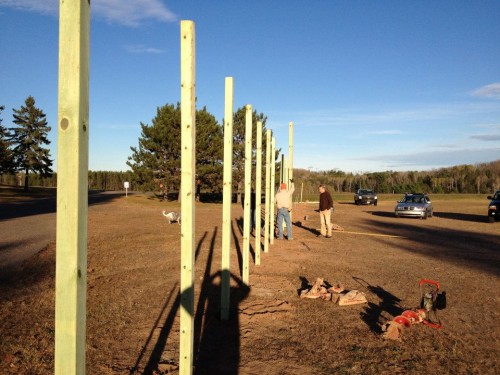 The CXC Ski Team is building a wall at Telemark for the IPC Nordic Skiing World Cup they are hosting this winter. Dennis and Hawkeye in the background.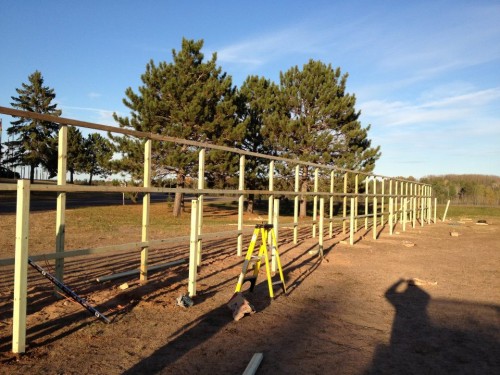 Pretty big wall. I would have liked to have been up there to help.