Just when I thought I might be able to pedal my bike good for a bit, I got bit. You'd think I'd know better by now. I was trying to catch the mother cat yesterday to take to the vet to get spayed and thought I was past the cat-bites-the-human part of the relationship, but I was wrong. She chomped down on my finger pretty good. Nothing hurts more initially that a good cat bite. I think it is because their teeth go all the way to the bone. Maybe I'm wrong, but whatever the reason, it hurts. Much worse than falling down on a bicycle.
So, I struggled most of the day yesterday trying to decide whether to take antibiotics. I had just almost got over a lung infection without antibiotics, maybe the first time in my life, but this isn't that. Everything on the internet says I should. The main reason is because I don't have a spleen, thus I am prone to infections. Especially infections to the blood, which is what eventually will happen to an infected cat bite. So, I bit the bullet and decided to write another month off riding bikes. That is not 100% guaranteed, but historically that has been the case.
I'm pretty glad I got the antibiotics now. I woke up this morning after 4 hours sleep with my finger throbbing to my heart rate. It is huge. I've only taken two pills so far, so hopefully they will kick in pretty soon or I might need to do something else. Cat bites aren't something to really mess around with. I guess I knew that, but I let my guard down.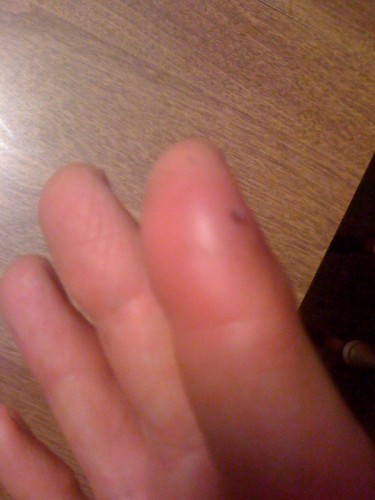 It's a drag because it is my right index finger.