I'm trying to wipe yesterday out of my mind. Actually, it wasn't that bad a day. Like I've stated here many times, a race day is always better than a non race day.
I don't have a read on what was going on last night. I don't know a lot of the guys racing here. The misc. riders that flew in from the East and West coasts. That being said, the race was sketchier than shit.
A huge thunderstorm moved through Tulsa right at the end of the 1/2 race, that just proceeded the Pro-1 race. Crazy lightening, etc. The postponed the start 15 minutes and it was nearly done raining by the time them fired the gun.
Like I said, I'm not sure what was the cause of all the crashing. Early on, it was definitely the wet conditions. I hit the pavement about 10 laps in when a Fly V guy came through the 2nd corner on the inside at a completely wrong angle. Brad Huff, maybe Ken Hanson and a few others fell here too. I casually asked the guy when I was getting up if he thought he thought there was even the slightest chance that he was going to make it through that corner upright. From my perspective, he had close to a 0% chance of completely that corner vertical.
As the course dried up, the race got faster and faster. And, I thought, safer. But, that all went out the window with 5 to go. People were getting launched everywhere. Straights, corners, it didn't matter. It seemed like everyone was protecting their positions and moving like it was the last half lap of the race. I was using this time to just get as rested as possible. I had a few places on the course that I could move up in big chunks, 10-15 guys, so I wasn't worried about getting back up to the front. It is always nice to have places like this on a sketchy criterium. Not all courses have these places, but because of the wind direction, there were plenty of opportunities here. But, when the crashes started, I tried to stay towards the front.
There was a group of 5 off the front with 3 to go. Fly V put their team on the front and I was just roving in the field a few guys behind. I was good with 2 to go. 10 guys from the front, completely rested. Then it went to shit. I didn't exactly see what happened, but Sterling Mangell and Rahsaan Bahati got hooked up and fell. Jason Waddell went over the top of them. I thought I made it by riding on my front wheel, but someone maybe hit me from behind or something, I got twisted up and my rear wheel came completely around and landed hard. I was instantly on the rim sliding, but kept it upright. So much for those new Shimano C35 carbon wheels.
So, the field was shattered. A small group of 9 or so sprinted. Joseph Schmalz, local Lawrence boy, was driving the break and the group at the end. He was riding crazy good, even though he finished 9th. Jonathan Cantwell came out of the last corner 5 back and still won the sprint. Pretty amazing. Results.
Okay, I have to go look at my bike. It is dirty and broken. I brought two sets of carbon wheels with me just in case. Maybe I jinx'd myself packing?
Velonews-Race notes:
Among the riders who crashed were Danny Heeley (NOW MS), U.S. elite criterium champion Steve Reaney (Cal Giant-Specialized) and Chris Winn (V Australia).
It would have been more appropriate to report on the 3 guys that didn't fall.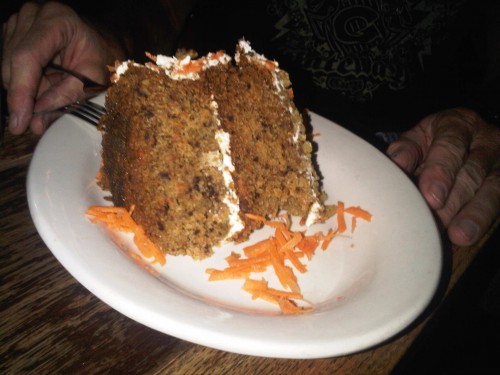 Dinner. Those are fresh shredded carrots though. I had a couple beers too.