I have a personal rule that I stop for nearly any turtle I come upon when I'm out riding. I stop in my car too if it's safe. This is about the time of the year when there are turtles galore out on the roads. It's probably the combination of all the rain and heat. I'm not exactly sure why, but it seems like early June is when it really gets going. Green turtles, snapping turtles, box turtles are all on the move.
Yesterday I ran upon two turtles while out on the group ride. The first one was a medium sized green turtle high tailing it across the road. I stopped, but by the time I had turned around it was nearly to the other side. Three cars were coming and I was waving my arms, pointing down at the turtle. Not one of them even slowed the least bit and the last one missed squishing the turtle by an inch. I couldn't believe it. The turtle just kept going at full speed and ran right off the road.
So, towards the end of the ride, there was a small snapping turtle in the other lane. I turned around to get it. I'm not big on snapping turtles. They are very primal looking and seem to be pretty mean, like they want to either bite and/or scratch you with their crazy claws at all times.
So, I toss the turtle in the water in the ditch. Right then, a way overweight, Australian Cattle dog comes running towards me from an adjacent house. I have my right foot clipped in and am just getting going. The dog charges me and turns it head like it is going to bite my left leg. I just kick back and whack the dog in the snout. It backs off a little, but still is crazy aggressive.
Right then, I hear someone shouting from the porch to, "Leave my dog alone and get off my property." I'm taken aback. I see these rednecks on a wood porch, grilling. I say something back about maybe they should call their dog back. It, the dog, is still going crazy. But, the guys keeping yelling something about moving on down the road "off their property." I was on a state highway. Not even close to their property.
I couldn't help it, but I ride back to "discuss" the definition of their property. I guess I knew up front that wasn't going to go anywhere. But, just then, Catherine came riding back to see what's up. The dog immediately goes for her. I tell her to turn around because the dog is vicious and because she is not great at making good decisions around vicious dogs. The guys yell again from the porch. Catherine yells something like, "hey, come get your dog." They yell something back with a lot of F@#% you, etc. Then they say something like if we don't leave, they are going to call the police. Man, these guys were idiots. Catherine is starting to get worked up. I tell her we should just leave and ride off. She followed reluctantly.
I don't mind the dog guarding its perceived property. But, I am not big on having a fairly vicious dog running loose. And when the "owners" see the dog acting aggressively towards people, they make no attempt to defuse the situation, like call or get their dog.
But then they threaten to call the police. That was a weird "threat" on it's own, since I was standing in the opposite lane of a state highway, not even in front of their property. Nonetheless, what is this all about not being able to just talk like regular people? At least as regular as these yahoo's can be. I would of loved the police coming by at the time.
So, we're riding down the road, trying to catch up with the group, when in a church parking lot a mile down the road, there are two sheriff cars parked, the guys talking. I make a spur of the moment decision, turn in and ask which one of them wants my business.
So, I give them a 30 second description of the altercation. I tell them I have no problem with the dog, just the owners. And that I understand that there isn't a lease law in the county, but it would have been a pretty scary situation for most people. The sheriffs say they'll go by and "talk". I feel weird sicking the sheriff on those guys, but I think that was one of the only ways to convince stupid people, like these guys, to act the least bit like responsible citizens.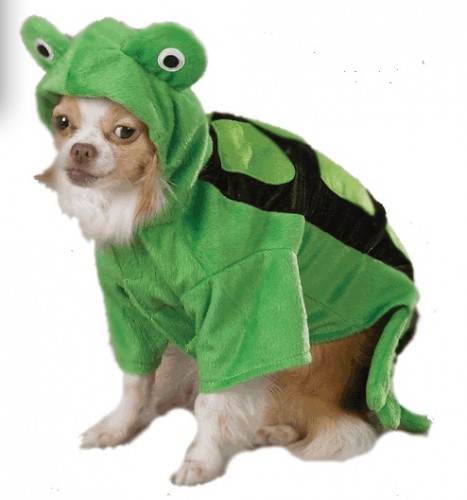 Here's a place you can buy a turtle costume for your dog. What a great idea.