I know that it is difficult to defend yourself against something that isn't true, something that is made up and only you truly know the answer if it is correct or a lie. That is the problem with accusing riders of using drugs without positive tests. True, a lot of what has happened in the last week looks completely super charged. But, I'm not going to go on record to say that is the case. There are a few, very few, riders that have it in their ability to do these special things. I've only ever ridden against/with one in my lifetime.
That is Greg LeMond. He could have won the Tour de France when he was a junior. I saw him do so many unbelievable things on a bike, I couldn't even begin to list them. I raced with Fignon, Hinault, Van der Poel, Pascal Richard, and a ton of other "champions". Lance Armstrong also. Greg made these guys look like amateurs when he set his mind to it. Now I witness on a constant basis, riders doing these special things. Sorry, but there aren't that many Greg LeMonds around.
That isn't the point I was going for here though. The point is I don't want to hear these guys that are winning defend themselves by trying to explain how much better they are by saying the train harder than everyone else. That is total bullshit. Way back, when I was traveling pretty extensively and racing a ton of stage races I was getting close to 120 or more race days a year. That was riding at least 3, two week stage races a season. Plus, doing a few cyclo-x races in the winter. I think a lot of European Pros were racing more. Just think if you did all three Grand Tours a year. That was over 70 days right there. Anyway, there is no better training than racing. And if you say you can train harder than you race, I have to call you out on that.
I've pretty much been a cyclist most of my life. And I've trained pretty fuckin' hard quite a bit of it. And I know a ton of guys that train unbelievably hard too. So unbelievable hard that it is impossible to have any more energy or time to train any harder. So, let's just drop the "I train harder than everyone else" thing. If you can train harder than the guys I know, then you must be taking drugs to recover. Because, most of us are training about as hard as being a human body allows.
And while were at it, I don't ever want to hear again about never failing a drug test as evidence that you're clean thing. I've read over and over about how stupid you have to be to get caught now, by doctors and by riders. Thomas Frei from BMC last year – "Should have drank my liter of water and I would have been fine." It was stupid. Forgetfulness got Thomas Frei kicked out for two years, not any drug testing.
I've never considered answering a question about why I did so well at a race by saying, "I just trained so much harder than everyone else, I couldn't lose." I know I've thought that I trained properly for specific events, but I'd never consider saying it was better than my competitors.
But on the other hand, I've hardly ever been accused of using drugs or having to defend myself again things that are unprovable. I hate it where this whole thing has taken us. I hate dwelling on it, but it is always there. Especially when you witness these remarkable feats.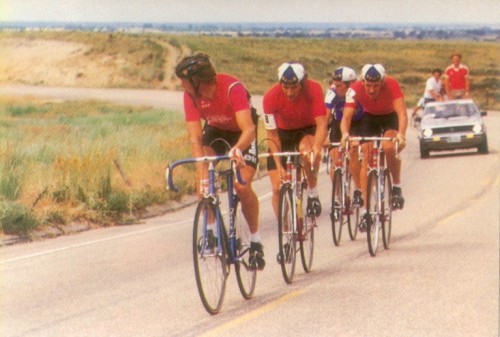 Greg LeMond, in front in the red Coor's Classic leaders jersey, alone against the whole Russian National Team on the Morgul Bismark stage of the Coor's Classic. They could not drop him and came unbelievable close to winning the stage.