I jumped out of my van the other day moving cow manure and twisted my knee a little. Kind of just strained it. I had decided to take the non lazy approach to gardening and turned the soil by hand, with my Hell's Kitchen pitch fork. I forgot about the knee pain. Then yesterday, riding, my knee hurt. I thought that maybe something was going on with my position. I'd moved my seat some and had new shoes, but then I remembered the strain from the previous day.
Anyway, I've hardly ever had any problem with position on a bike causing pain. If I have, it is usually early season when my body isn't used to the hours of repetition. If you look at the position riders use now compared to 25 years ago, it is extremely different. I believe position is over rated. Not for power output, but for injuries. I think with today's pedals allowing float, it is pretty hard to set your cleats wrong enough to cause knee pain. It seems like everyone is riding more and more upright. Pretty soon it will be a MTB position on our road bikes. I jump on and off my road bike, switching to MTB or cross without a second thought and I'm fine.
And you can definitely get used to an extremely different position quickly.
I saw this article at Pez Cycling about the 1985 World Pro Race. A 39 year old Joop Zoetemelk made a risky move and outfoxed the field. Greg Lemond and a depressed, Moreno Argentin finished 2nd and 3rd respectively.
I rode the race as an amatuer. My 1985 World Championships in Italy is a prime example of getting used to "wrong" position".
The US team for the Worlds was Roy Knickman, Thurlow Rogers, Jeff Pierce, Kent Bostick and myself. I was riding great. I'd just finished the Coor's Classic a couple weeks earlier and had a bunch of oxygen carrying capacity from being at altitude for 2 months. I'd crashed at the British Milk race in June, and had to be off my bike for 6 weeks, so my season was young. I flew out to New Bedford, Mass. to race the Whaling City Criterium on the way to Europe. It was raining and I lapped the field with Alan McCormick and won.
The course suited me. One short, steep climb and the rest was just normal. I told the US mechanics that my bike was perfect and they didn't need to do anything for me. The morning of the race, I went down to get my bike and every part on it was new. The Japanese Shimano guys had come by the hotel and switched all my parts to new Dura Ace. I wasn't too happy. Anyway, about half way through the race, on the climb, my chain snapped. I didn't fall, but was instantly stopped. The support in the Campy car were moving like slugs. The guy was smoking a cigarette, casually looking to see what size my frame was. In the mean time, Tony Palmer, a US rider that rode the TTT was right up the road with his bike. He jumped over the barriers and rode down and gave me his bike. I rode up that hill crazy fast. I caught back on in less than 5 miles after standing there over a minute. The only problem was that Tony was 4 inches taller than me and his seat was at least 1 1/2 inches higher. Plus the reach was super long.
So, I rode around on this bike for the next 3 laps. Each time I went through the feed zone I was expecting my bike back, but they were having trouble finding a chain. So, after 30 miles or so, there is my bike. I was so glad to see it. I jumped on it and they pushed me off. But, as I got going a feeder walked out and I was pushed directly into them. I crashed, but got going pretty quickly. The first thing I thought was, "man, why did those guys lower my seat so much?" It was like I was riding a child's bike. My position was so much lower than Tony's that it felt really wrong. Anyway, I didn't last too long after that. I had re injured my collarbone I broke at the Milk Race and was cramping pretty bad. That was a drag because the race came down to a field sprint of 30 guys or so. I was fast then.
The only other time I've made such a drastic position chance was at Philadelphia in the PRO Road Championships. I broke my frame and got a neutral bike from Mavic. The only one they had that had Shimano pedals was a 52cm. I rode a 60cm. But, they had a quick release MTB seatpost, so I got the seat height pretty close. The problem was the reach. Everytime I stood up for the next 5 hours, I hit my knees on the handlebars. I still can't understand how I could never remember that during the race. I rode that 52 cm bike the whole race and finished in the front group. Somewhere in the teens I think. The next day, both my knees were black and blue, but other than that I felt fine.
So, my two drastic position changes didn't really bother me too much. I know my position has morphed with the times. But, those changes are very subtle and minute. If you think you have a position problem, make a lot of small changes to get to the "right" position. Whatever that is?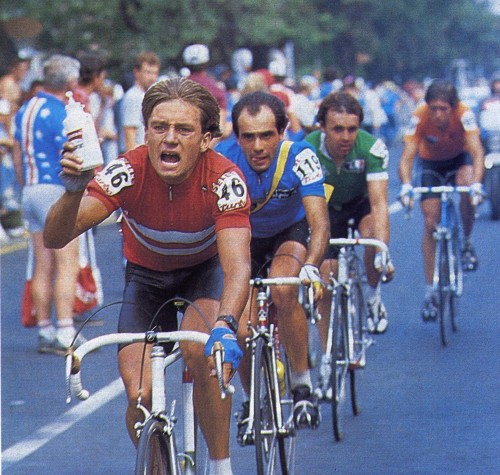 Alan McCormick made the break of the day and led up the climb most of the laps. I talked to him afterward and he told me he led up the climb so the break would climb his pace. He wasn't known as a climber, but he was having a great day.