The Velonews follow up to the Chuck Coyle saga can be found here. I'm glad to see Velonews and Neal Rogers are staying with the story as it develops.
It says two important things. One is that the drugs were shipped to his house. And two is that he signed a USADA paper that states he used and purchased EPO.
Wow. Now that is a pretty big departure from "a team mate did this all without my knowledge." Especially since he had an option to accept a guilty plea without the admission of guilt, according to Travis Tygart, CEO of the U.S. Anti-Doping Agency (USADA). Chuck declined to be interviewed for the 2nd article. Saying, "I'm not comfortable putting my family through any more press." Maybe he should of thought about that before he signed the USADA document in the first place. His problem now is that he's caught it a lie either way. I hate it when that happens. His denial in the original Velonews article pretty much contradicts his admission signature on a USADA document. Maybe someone was holding his family hostage and he had to sign it under duress. Pretty plausible.
You know, honestly, I think this might be the end of this story. I'm sort of hoping so. I really don't want to hear anymore about it. If the facts are true, as stated, Chuck signed a document that said he bought and used EPO. That is the end of the story.
Speaking of plausible excuses, below is taken from a comment on a Velonews.com article on Contador's clenbuterol case. Brilliant. Attorney written I'm sure.
It appears now that Mother Goose will appeal the case of Goldilocks (who, after out-running the 3 bears tested positive for trace amounts of fairy dust) to the Old Lady in the Shoe after originally being cleared by the Big Bad Wolf. This all comes on the wings of a recently released semi-autobiography; written by Jack Sprat and his Wife after being indited for sharing a steak and eating no fat and no lean respectively tested positive for "bean-erol", a compound found in Jack's Magical Beans, which when ingested allow one to climb to the magical giants kingdom "in an unfair fashion". In this book the Sprats claim that the Big Bad Wolf (who cleared Goldilocks for the trace amounts of fairy dust) was the mastermind behind "Operation Porridge", this claim has been substantiated by Little Red Riding Hood and the 3 Little Pigs. Little Miss Muffet refused to comment.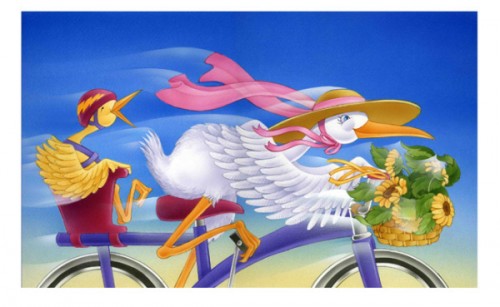 Malicious persecutor of a "Children's book charater." Boo.