should have been disqualified for not riding the whole course. Early in the race Trebon was leading a group of 4 and blew through the ribbon coming off a pavement section and instead of turning around and coming back onto the course where he left, he pulled a Lance Armstrong Tour de France grass move, and went under the ribbon and waited for the group while they rode a couple hundred meter section and then rejoined them. He then proceeded to ride away with Todd Wells and dropped him running up the mud climb and won by 30 seconds or so. Todd finished 2nd and 3rd was Chris Jones, who fell with a couple laps to go and never gained his composure back. Then Barry Wicks. I don't think that Jamie Driscoll started the race. Neither did Chris Horner.
I don't think Ryan was trying to cheat or anything. He just made a really bad decision during a cross race, as we all do. This decision should have cost him the race though.
Me, well, I got a horrible start. I was at the end of call ups again. Missed my pedal and then got caught up in a crash in the first corner. My chain came off and I had to stop and put it on. Dead last by 30 meters. I didn't stress. I'm trying to have a low stress weekend and it seems to be working. I caught back up to John Meehan, the race promoter, a couple hundred meters later and he made a comment about being ahead of me for 1/2 a lap. I said, "John, are we only doing 2 minute laps?'
Brian Matter, Geargrinder, had some issue at the start too. He was only 10 guys or so ahead of me. He proceeded to ride up to close to the top 10, I think. I made it up to 15th by the finish, without really killing myself. I made $3 picking up money off the ground (and from the bra) on the climb. My bike is just working so/so. Not really sure why that is, but it's good to get the kinks out now, since it's so early in the season.
Tomorrow, another day on Mt. Krumpet. We get the ride up to the top tomorrow instead of running up it like today. I feel pretty good. My right hand isn't really working because my thumb is so screwed. Not good for shifting or descending on mud. Tomorrow I can only finish 16th, it's an UCI C1 race, so today is my result of the weekend. Great.
PS Amanda Miller dominated the women's race. She is off the HTC next season on the road. It is great for her to win at home in Iowa. Devon Haskell was 3rd, which was a great result for her also.
Full Results
1 Ryan Trebon (USA) Kona 0:55:02
2 Todd Wells (USA) Specialized 0:00:30
3 Christopher Jones (USA) Rapha Focus 0:01:00
4 Barry Wicks (USA) Kona 0:01:26
5 Tristan Schouten (USA) cyclocrossracing.com/Blue/Rolf 0:01:36
6 Mark Lalonde (USA) Specialized 0:01:40
7 Troy Wells (USA) Team Clif Bar 0:02:26
8 Nicholas Weighall (USA) California Giant-Specialized 0:02:49
9 Brian Matter (USA) Gear Grinder 0:02:56
10 Ryan Iddings (USA) Redline 0:03:02
11 Adam Bergman (USA) Texas RoadHouse Cycling Team p/b Motorex 0:03:05
12 Jake Wells (USA) Hudz-Subaru 0:03:19
13 Zach McDonald (USA) Rapha Focus 0:03:36
14 Chris Hurst (USA) 0:03:40
15 Steve Tilford (USA) TradeWind Energy/The Trek Stores 0:03:48
16 Jack Hinkens (USA) Team Plan C p/b Stevens 0:04:37
17 Mitchell Hoke (USA) Clif Bar Development Team 0:04:50
18 Christian Helmig (Ger) Metro Volkswagen Cycling Team 0:04:59
19 Cody Kaiser (USA) California Giant-Specialized 0:05:03
20 Ryan Knapp (USA) BikeReg.com 0:05:14
21 John Curry (USA) GAS/Intrinsik
22 Kevin McConnell (USA) mercy-specialized 0:06:05
23 Mike Sherer (USA) The Pony Shop 0:06:22
24 Clayton Omer (USA) Papa Johns' Racing Team 0:07:28
25 Michael Hemme (USA) Courage 0:07:55
26 Andrew Coe (USA) SKC Racing 0:08:10
27 Christopher Fisher (USA) Velorochester 0:08:46
28 Jesse Rients (USA) Nature Valley/Penn Cycle 0:08:51
29 Peter Hurst (USA) AXA Equitable Cycling Team/CRCA 0:08:52
30 Adam Mills (USA) KCCX/Verge p/b Challenge Tires 0:09:58
31 Teodoro Ramos (USA) Iron Cycles
32 Mathew Allen (USA) behind bars/ little guy racing
33 Jeremiah Gantzer (USA) Bikes 2 You
34 John Meehan (USA) Bissell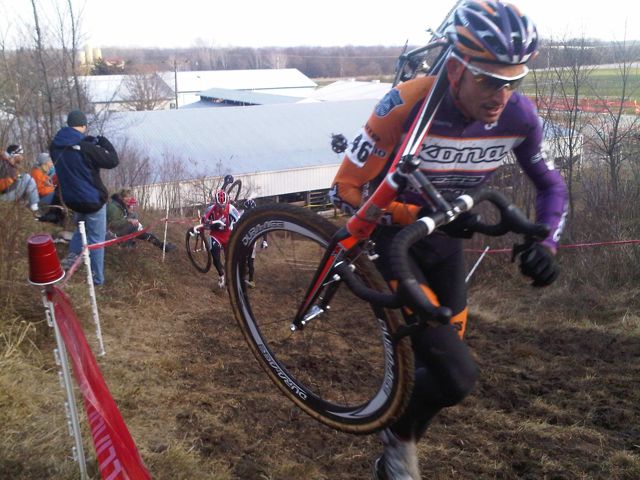 Winner? Todd in the background.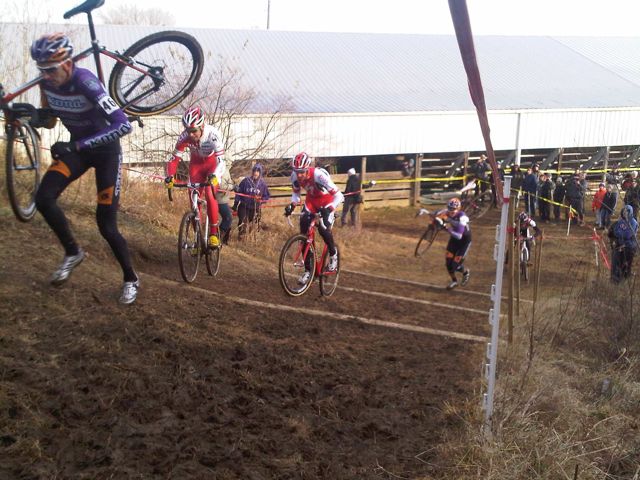 Ryan Trebon running the lower part of the hill while Todd and Troy Wells ride it.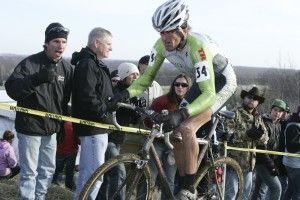 From Velonews.com. Bill seems pretty excited in the background.