I got a note from Michael Aisner that he'd be in Topeka this weekend. Tom Schuler's grandmother is turning 113 on September 5th. I helped her move out of her house in 1997 when she was 100. Boy, does time fly.
It used to crack me up when Tom would say that he talked to his grandmother and my name would come up. Tom would tell me that Ella would say that maybe he should ride with the Tilford boy and that maybe he could learn something. Even though Tom had been on a Olympic Team and had won the Professional Road Nationals in Philadelphia.
Anyway, I've been following Ella Schuler's progression on the supercentenarian list for a couple years now. She started in the upper sixties and now is officially the 12th oldest human on the planet. Michael always stresses how rare it is to meet someone born in the 1800's. I never thought much about it because I grew up with my grandmother and she was born in 1892. But, now, meeting someone that was born in the 1800's, that person has to be at least 110 years old. That is pretty old, even by today's standards. Anyway, I thought I should again post Michael's video a that he made last year about Ella, in celebration of another birthday this weekend.
ELLA @ 112 — THE MOVIE from Michael Aisner on Vimeo.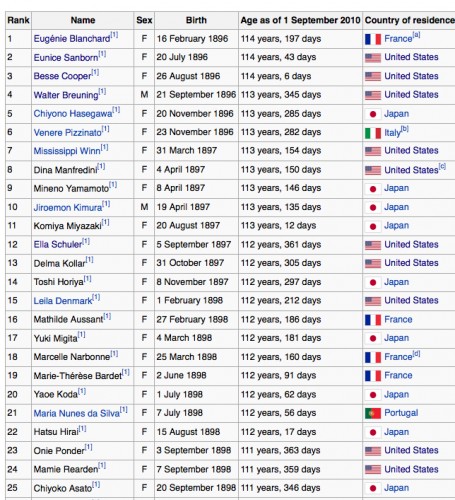 The list above is of the oldest documented people currently living on the planet.