I think the Tour de France coverage on Versus has been pretty good so far. I only watch it live in the morning, so I have no idea what they do with it in the evening. Phil has lost his mind, of course. My favorite Phil quote was something like, "Alberto has made a huge mistake and dropped his team mate Contador." when he was actually talking about Vino. He makes a ton of mistakes, but I couldn't do any better, so who am I to nitpick. It is entertaining.
Trudi was on the coverage this morning, for a few seconds, handing up musettes. I took a picture with my iPhone of the picture. Didn't turn out so good. But, you get the idea.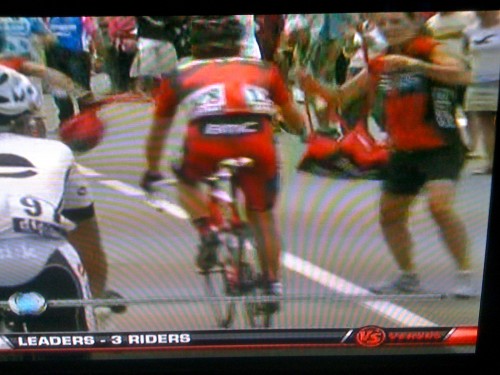 Trudi also sent me a picture of the "Devil Mobile" when she drove by it today. I didn't know he had such a ride. I've seen the guy in person a few times. He must be independently wealthy or something. He spends a ton traveling the world doing his gig. And, man, can that guy jump!