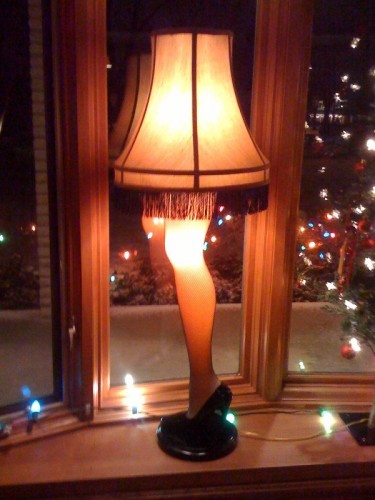 I love this lamp. It's a replica of the one from Christmas Story. It's better in real life.
I ate way too much today. Drank a fair amount too. Ran for the first time in months. Tomorrow might be kind of ugly.
We're driving up to Cable tomorrow for the Double Birkie Ski on Sunday. I've skied an hour or so this year, so 90 something kilometers is going to be a breeze. The running today probably is going to help a ton.
It's still not too late to participate. Tomorrow night, Saturday, there is a wild game feed at the Sawmill Saloon in Seeley, Wisonsin. Some pretty strange dishes are served up here. Elk might be the perfect pre-ski meal if you're not a skier and plan to ski 7+ hours. I guess we'll find out.
Hope everyone is enjoying the time off, except all you guys over in Belgium racing cross. Two local KC guys are over at Belgium Cross camp-Joseph Schmalz and Chris Wallace. I hope you guys are staying warm, healthy and enjoying the experience.