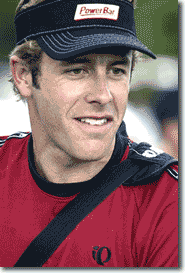 One of the last times I raced MTB's with Steve was at the Sea Otter before he "became" a triathlete. I had the pleasure of riding the whole Sea Otter cross country with him. I was doing the Iron Otter. It involved racing the road stage race simultaneously with the MTB stage race and then adding the combined times together. Danny Pate and Cadel Evans were my main competition. Anyway, the final race was the cross country. I was having a pretty good day and ended up in a small group of guys with Steve. Eventually it got down to just the two of us. He knew about all the racing I'd done the past three days and nursed me along the last hour to a top ten finish. Very nice of him.
I first met Steve when he was a junior. It was in Nevada City. He was pretty unbelievable then. I followed him as he matured. He just got better and better.. He eventually raced on Motorola on the road. Then switched to MTB. He nearly always rode a good tactical race. He had a epic duel with Lance Armstrong at Mt. Snow. I think he let his emotions get the better that day and Travis Brown ended up winning the Norba National because of it. But, Steve made Lance ride way beyond what he had anticipated. The quote in the paper the next morning from Lance was "That was the hardest thing I've ever done!" That was after he had already won a Tour de France.
We always got along pretty well. Probably because we shared a lot of the same passions and a lot of the same experiences. He came to the Olympic Road Trials in 2004 to support Chris Horner. That was after he hadn't raced for a while. Horner should of won that race, except for the facts that he was on antibiotics and everyone in the race ganged up against him. Steve was a very good team mate. He was a very good cyclist. That is a fact. I hadn't seen Steve in a while. But, he was a friend and will be missed.