I raced The Growler MTB race in Gunnison yesterday.  I don't have enough energy to recap that right now, so I thought I would post about the promoter, Dave Wiens.
The race was a blast.  I decided the last minute to do this event.  Vincent was doing it, so I texted my friend, Dave Wiens, who I knew would know about the race.  It turns out that Dave is pretty much the race.  At least the go-to guy.  I know races like The Growler takes a huge group effort.
I think I first met Dave back in 1990.  That was the first year that I kind of really raced MTB professionally.  I think Dave was riding already for Diamondback.  I went to Race in the Sage and I distinctly remember Dave racing in high black socks, on the road.  He should be credited for breaking the trend of white socks only.  Plus the sock height.  He never wavered on this, even though it took cycling nearly a decade to catch up with him.
At the criterium, he was all over the place.  I'm not sure that he had ever raced a criterium.  I couldn't understand how a guy that was so good handling a MTB could be so green on a road bike.  Most everyone else in the race had raced on the road before coming to MTB racing.  It was peculiar that he started off-road.  At least it was then.
Dave was, and still is, a true-born mountain bike racer.  He lives the lifestyle and is beyond passionate.  He is the nicest guy with always something positive to say.
I remember the World Championships in Italy one year.  I had no idea how I had finished and found the results and was super surprised that I finished in the top 20.  I had started dead last, 150 guys back, because of flatting twice in the qualifying race.   I never knew I had passed enough guys to get an okay result.
Looking at the results, Dave was way back, like in the 60's maybe 80's.  I believe he was US National Champion that year.  I saw him and asked him what happened.  He said he just had a bad day.  I asked him why he didn't just quit and he said something that I practiced, but had never articulated.   He said that he kicks these guys asses all year, all over the world, and that it wouldn't be fair if he just quit.  He said that the other riders deserved to beat him when he was having a bad day.
That is true.  My mantra is I don't quit a race unless I'm sick or hurt.  KInd of the same thought, but he said it way better.
Dave won Leadville 5 times or so.  We were inaugurated into the MTB Hall of Fame together in 2000.  We didn't know that we had to do acceptance speeches.  Ned was introducing me and Daryl Price was doing it for Dave.  They told us about 20 minutes before the event that all four of us had to speak in front of all our peers.  Daryl amazingly scored a bottle wine that we shared, to take the edge off.
Anyway, in my speech, I used Dave as an example of what a MTB racer is.  A guy that appreciates everything involved in the sport.  I told a story of the first time I raced Chequamegon. Dave came and was then flying to the World Championships right after.  Marty Jemison, who was riding for the USPS, dropped all of us pretty early.  I hung with him the longest, but eventually got popped.
I was riding on Phipps Fire Lane and Dave comes riding up.  He says something about how crazy strong Jemison is.  Then proceeds to kill me.  RIding on the first section of Birkie Trail, I could barely stay on.  After OO, we were told that we were only 40 seconds back.  When we got on Bodecker, we could see Marty behind the motorcycle.  I started pulling we were going hard.
There was a steep sandy descent that went down to the lakes.  It has since been removed.  We were hauling down this, nearly, singletrack descent and next thing I know, Dave's rear wheel is pretty much in my face.
He was going over the bars and I was plowing into him from behind.  I hit him and flipped over and tumbled down the hill.  I was maybe ten meters below Dave and couldn't really see anything because I had so much sand in my eyes.  I looked up and Dave was on his hands and knees, gasping for air.  He had landed on his back and all the air got knocked out of his lungs.  I got up and went back up to help him.
Eventually he got breathing normally and I went down and got my bike and found my sunglasses.  Dave was messing with something I told him I was going to get going.  He said he'd catch up and that he was fine.
I started riding along, pretty slowly, not really able to breath.  My upper back was killing me.  I just kept riding slow and Dave never came.  I was a mile or so up the trail and thought that I should turn back around and go see if Dave was okay.  I figured someone else had came upon him, but still was worried.
Eventually Dave came riding up, all happy.  I asked him why it took him so long and he said that he started off and then realized that he didn't have the stick that had flipped into his front wheel to cause the crash.  He said that he had a little shrine or something in his basement that he kept the important memories of his adventures and that the stick had a place there.  I thought it was nuts.
Dave just went back to the front and started pulling again.  We were still racing for 2nd.  When we got to the Seeley Fire Tower climb, the last real place to make a selection, I was hoping that Dave was going to just ride away from me.  I was feeling badly that I was going to beat him when he pulled virtually the whole race.  He didn't and I started stressing.
Luckily for me, I flatted on the last section of the Birkie Trail.  It really was a relief.  I would have hated out sprinting him under those circumstances.
I ended up breaking 3 ribs.  The next day, I went over to the Sunday fun day events at Telemark and Dave was there.  He had already done the bike orienteering event, the log pull and all the other events that no other serious bike racer would have even considered.  He was digging it. Remember, he was flying over to Europe to race the World Championships the next day.  I remember envying him, thinking about how different our mentalities were at that time.  I would have already moved onto the Worlds and he was living in the moment then.
Dave finished super good at the Worlds that year.  I'm not exactly sure, but maybe 12th or so.  I think he was the best American rider.  Drugs had already infiltrated the MTB scene, so 12th would have been an incredible result.
Anyway, I was stoked to see Dave this weekend.  He was out on the course, at a feed station on my 2nd lap, then at the finish.   I talked to him a little after the race and he is the same passionate guy. Just as passionate about putting on a super race that supports local trail development as he was racing.
The sport could use a lot more Dave Wiens.  The world, in general, could use more guys like him.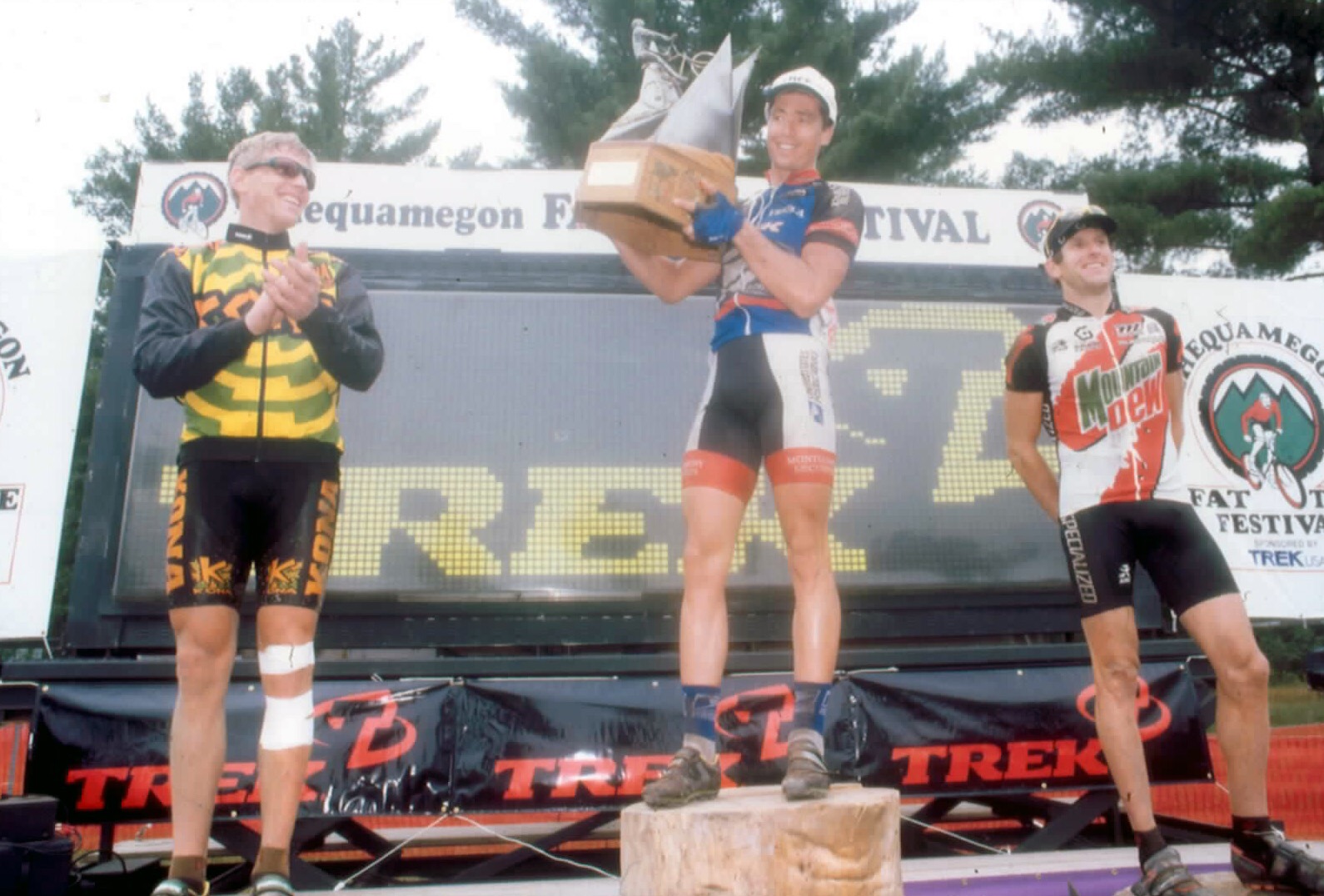 Dave all bandaged up on the podium after the race.