The phrase single file is now only used pertaining to cyclists and how they don't ride close enough the the side of the road. Cyclists riding two abreast seems to be a recipe that turns regular people into aggro motorists.
I saw an article at Cyclingweekly that was a discussion between Chris Boardman and someone that felt that a truck had passed her mother too closely. Chris Boardman tweeted that they should have been riding single file on such a narrow road.
The only case I can see for this is that it might not piss off the truck driver so much. It is definitely more dangerous. Riding single file encourages drivers to try to make hasty passes when the road isn't necessarily clear.
That is what most drivers don't get, is that there isn't enough room on a normal two lane road for two cars and one bicycle. A car has to cross the centerline to pass safely. If the average motorist understood this, I think the problem would be much less.
I got thinking about this because some dick on a Harley came by a couple days ago, revved his engine, which scared the shit out of me, and then proceeded to yell at us to ride single file.
The terrain around Northeast Kansas is such that we could encounter more issues if it were more populated. It is rolling around here, with lots of short hills in succession, so hard to pass, even car vs. car. What I have found alleviates the issue some, is when I get to the top of a hill and see that it is safe to cross the centerline for the car to pass, I wave the car by. It seems to tell the driver that we were concerned about holding him up. At least that is what I think. I've never waved a car by and had the guy go irate on me.
Again, I googled it and have already written a post of most of my thought about single file riding. Here it is.
Two Abreast, It's the Law
That is the law here in Kansas for cyclists. It is a super good law. The only problem with the law is that nobody but cyclists know it.
I don't know how many times in my lifetime I've had people yell "single file" to me. Probably 1000's. The only time I've ever heard those two words in a phrase was when I was elementary school, walking in the hall to the auditorium or somewhere as a class and riding my bicycle. I don't know where it got ingrained into people's brains that single file is how cyclists are "supposed" to ride on the street, but it is a common mistake.
I've been riding back and forth to Lawrence recently. Unless I'm riding on gravel down by the river, I have to ride on State Hwy. 40 for some amount of time. The road isn't too busy and really not that dangerous. But, it doesn't have a shoulder and rolls enough to make passing tricky. Cars passing each other and cars passing cyclists.
At least once, and usually more, when I ride the road, some yahoo will pass me, crossing into the opposite lane going up a hill. Inevitably, a car will be coming from the other direction and have to swerve, brake or something. It never ceases to amaze me that the guy in the other lane nearly always honks or flips me off when he comes by.
I just don't get it. The car that was passing me is nearly always crossing a double yellow line on a blind hill and the other car blames the cyclist. What's up with that?
It is even worse when I'm riding with someone else. The drivers of the cars think, mistakenly, that we're breaking the law by riding two abreast. Somehow that mentality gives these people the need to try to enforce their mistaken thoughts by honking or coming by dangerously close, usually passing illegally themselves. It is super weird, like the law should even matter enough to endanger someones life.
I've had people actually stop a couple times and go into a tirade about the two abreast riding. Only a couple times. I used to carry a piece of paper in plastic that stated the Kansas State Law concerning riding bicycles two abreast. Each time a person stopped, I would show them the law and it was amazing how that would calm them down. It is like they thought they were the two abreast police and the realization that they didn't know the law completely deflated them down to nothing.
Once we were riding over to Kansas City for a training race and got pulled over by the Douglas County Sheriffs near Lawrence. The guy was hassling us for riding two abreast. I happened to have the law with me and showed it to the officer. Next thing I know, the guy's supervisor shows up. The officer had already called him since there were 6 of us. The officer goes and tells him that we were riding 4 abreast, when just 5 minutes earlier he had told us he stopped us for not riding single file. I was obviously pissed.
I had a conversation with the supervisor and told him that it was a much bigger deal having a sheriff lie to his supervisor, right in front of 6 regular citizens than whatever law the guy thought we were breaking to start with. It really didn't go anywhere. The supervisor said that they had big problems with groups of riders "massing" on the county roads and thought this was one of those situations. Anyway, it goes to show that even the local law enforcement officers don't know the law.
If that is the case, I don't know why I would expect anyone else to. I went down and renewed my driver's license in February. I thought that is would be a good idea to include a question on the renewal test about the two abreast law, but we don't even take a test anymore. Just walk in, take an eye exam, get a photo taken, pay $25 and out. Maybe 5 minutes max.
I don't know how to fix the problem. It sure would be nice if the drivers didn't think that all us cyclists were law breakers when we ride side by side. I know that would alleviate a ton of the tension. But I don't really see a way to do it.

Maybe some signs like this might help some. Funny, I got this off a website talking about riding in Tenerife and how it is a 1500 Euro fine to pass cyclists illegally in Spain.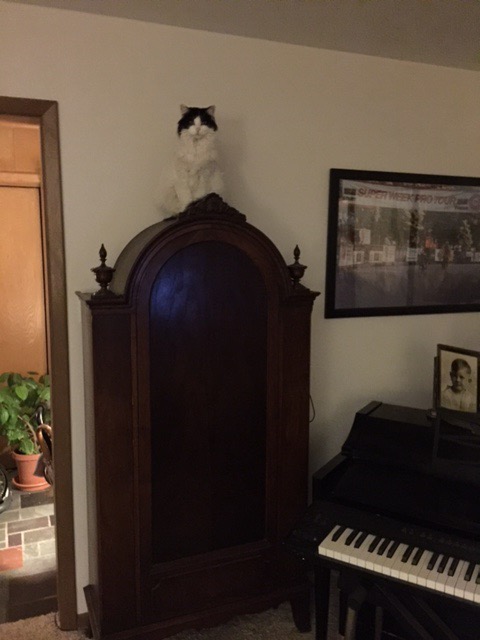 The cats are now staying high now that Tucker is more coordinated.