I found out that the Kansas State Cyclocross Championships is today in Lawrence.  I really hadn't been searching for a race, thinking that this wasn't a weekend for that.  But, I like racing races for titles and it is close, plus most all my friends from around here will be there, so other than being iffy for racing cross, I don't have many reasons not to go.  You know things aren't exactly right when you're looking for reasons not to go race.
Anyway, I put together a 2nd cross bike yesterday, so I was standing most of the day.  Sometimes that is bad, but other times I feel fine, so I guess it is what it is.
I put the old Ultegra Di2 on the bike.  It is externally routed cable, so it looks a little jerry-rigged.  I took the sprinter shifters off my road bike, but they wouldn't plug into the old Ultegra shifters.  Shit.  These would be so good for cross, especially at the start.
I only glued on two tires, so that didn't take that long.  It surprises me how much glue and rim tape it takes to glue on one tire.  But, gluing cross tires onto carbon rims is not something to be stingy with.
So, I have two bikes even though I have no intention and hopefully only have use for one.  Keith Walberg's team 360 is putting on the race and he was over at the course all day yesterday to help set.  He said the course is super long, nearly 2 miles and there is only one dismount, which is good for me right now.
I'm heading over to Lawrence pretty soon, even though the Elite race isn't until 3pm.  I need to ride a bunch on the bike to see how it handles.  Plus, I haven't really been just hanging out at a cross race recently, so it seems like a nice way to spend Sunday.
Alright, I'll let you know how it goes.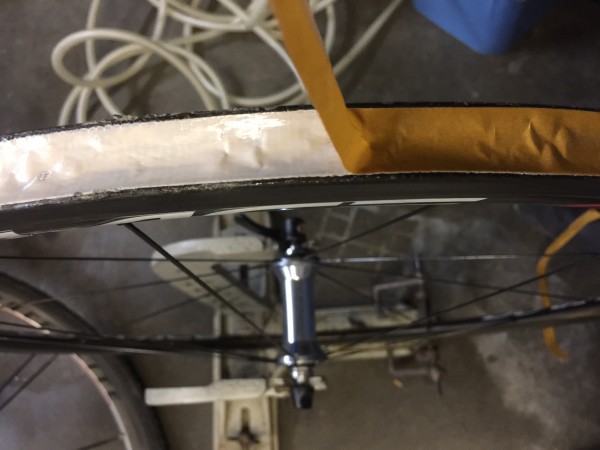 I don't spend days gluing tires, but use a lot of glue and rim tape.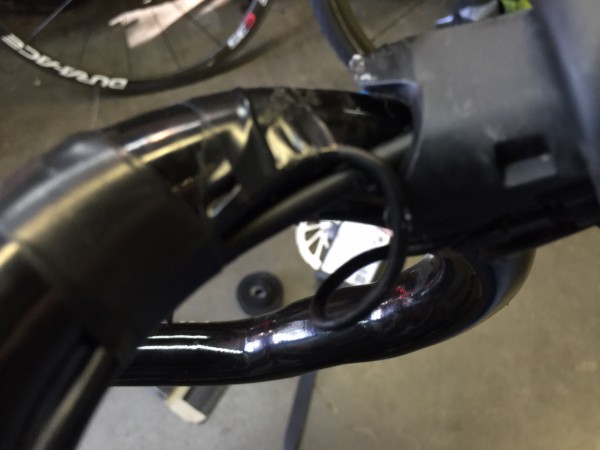 I leave a loop of wire next to the shift lever in case the lever or bars move, so it doesn't pull the wire out of the shifter.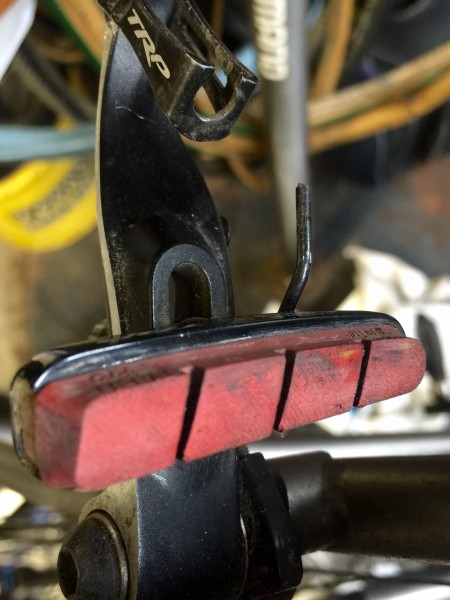 I file pads a rap to expose new rubber and make sure there isn't a metal imbedded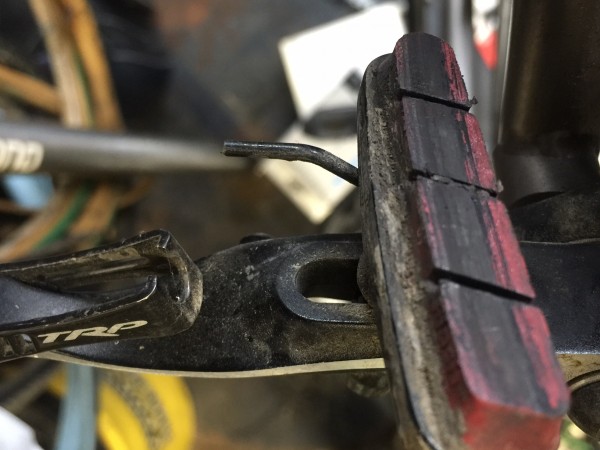 This was the pad before