Well, I decided to go down to low altitude and race a criterium yesterday in Louisville, which is a small town east of Boulder.  I rode over to the start and felt alright, thinking I was going to be good.  Surprise, nope.
I am rarely this surprised when I think I'm feeling okay, which is maybe a bad sign, or not, who knows?  I haven't really been doing any intensity, other than being perched on the tip of my seat, in my granny gear, at 12000 feet.  Usually when I feel like I'm doing okay riding my MTB bike, then it transfers to the road.  Guess not in this case.
The course was sort of a triangle shaped rectangle, with a small chicane on the back-stretch.   It seemed, before hand, that it was going to be a perfect race to sit on and do as many efforts as I felt like doing.  Hardly.
From the get-go, I felt over my head.  I clipped in and a couple guys took off like it was going to be an one lap race.  The back-stretch was a tad uphill and I looked down and was going 33 mph. I was thinking I was missing something.  I was missing something, which was air and the ability to be able to handle speed changes.
And the race never got better for me.  There were about 60 starters and after just few laps I was riding way back, back where I never ride, where the guys need a bike length in front of them to negotiate corners.  I have no idea how some of these guys finish races, giving up more than a bike length in each and every corner.  They have to work so much harder.  Anyway, because of this, I was experiencing a lot of the slinky effect, having to make up all the distance that each rider gave up in front of me on the corner.
I really didn't mind actually, because I was there to do a bunch of jumping, but it got a little ridiculous.   I finally got sick of it and moved up to a more respectable place and rested some.
I never participated in the event, other than ride around in circles.  I was amazed that when I felt like I was going hard, someone would attack off the front.  But, when you're having one of those days, everything surprises you.
Guys keep getting dropped and the field actually slowed down some.  During the race I was hoping it would stay super fast and I would be at my limit more.  But, I was there enough I guess.
Eventually 3 guys got away, two Hincapie riders and another guy.  I think they dropped the other guy with a few laps to go.  It stayed pretty constantly fast until the end.  I moved up, thinking I was going to participate in the sprint.
The sprint was horrible for me, a little downhill and tailwind, plus super long, like 500 meters form the last corner.  I came around the final corner about 8 guys back, thinking that was about right.  We started winding it up and then it went bad.  A couple guys doing a leadout were coming back through the field like rocks, just as a huge group was coming by on my right.  I got jammed, and had to brake and that was it.  Trying to accelerate again was pointless.  I sat up and just rode in.  23rd.
The two Hincapie riders, Joe Lewis and Tom Skujins finished 1st and 2nd, so the top end of the results look good.  Remember, Tom Skujins was the kid that was winning the Tour of California for a while?   He climbs pretty great, but obviously had no issues going fast around in circles either.
I haven't ridden many criterium this year, but that isn't a excuse.  I think the excuse is that I haven't raced in a month, except for a MTB race nearly 4 weeks ago.  There is a huge difference between doing a 7 hour MTB race and an one hour criterium.  At least I'm hoping that is the case.
It felt like I wasn't acclimatized at all.  I guess I wasn't, at least to riding over 30mph and jumping so many time.  The average speed of the race was 29 mph, which isn't ridiculous, but pretty fast considering the course.    I looked at Strava and had a ton of close to 1000 watt efforts.
I'm going to hang out down low for a couple days and try to get rested up some.  The weather for Leadville on Saturday, at least the forecast, isn't good.  It shows rain and cold.  It would be so strange lining up for a race at 6 am, at 40 degrees, knowing you have 100 miles to ride, off-road in the rain.  It would be a survival event at that point.   It would be pretty horrible until you actually starting racing.
Anyway, I have no control over that.  Plus, they never get the forecast right.  Right?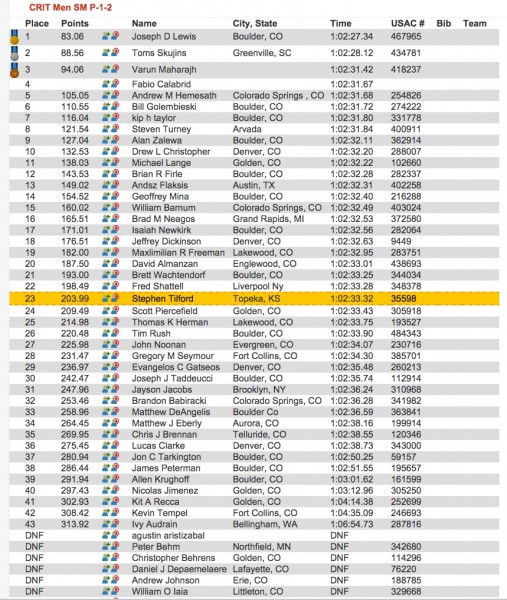 Click to enlarge.