I've been riding my cyclocross bike back and forth to Lawrence the past week on gravel.  I'm sort of stuck in a rut, but not a rut that I'm concerned about.  Anyway, I was thinking yesterday how perfect the material of titanium is for cycling.
I got thinking about this because I ejected a bottle from my cage on a descent with braking bumps.  I was thinking if I had King ti cages on my cross bike that my bottle wouldn't have been in the dirt and still on my bike.  That got me thinking about frame materials, etc.
We have gotten so obsessed with weight that the other aspects of the frame materials have taken a backseat.  Like in the trunk.
Given, carbon frames are normally lighter than titanium.  But, you can build light frames from titanium.  And nice frames.
I think for any bike you are riding off-road, titanium is the perfect material.  With the different choices of tubing sizes and thicknesses, you can fine tune how stiff, resilient, or supple a frame is.  Tuning the ride is a big plus.  But being virtually indestructible is what really sets it apart.
I have crashed titanium bikes 100's of times and never touched the frame.  I was racing in Canada, in the muck and slime, and was planning to bunny hop a log, at speed.  When I pulled up, my hands, which were wet, covered with mud, came off the bars.  I hit the log, square, and my shock fork snapped off at the steering column.  And it was an aluminum steering column, not carbon. My frame didn't have a ding.  The headtube was perfect, the down and top tube were perfect too.  If I would have been riding a frame built out of any other material, it would have been destroyed.
The same goes on the road.  My new Eriksen road frame is as stiff as the Trek I was riding before.  I know you think that is bullshit, but just ride one.  Oversized tubes, with 1″ chainstays makes the frame super stiff, yet light.
But, the real deal is that I don't have to worry about the bike.  When I was riding carbon, I was constantly checking my frame to make sure there wasn't any small cracks.  I'd check down by the bottom bracket and especially up by the headtube before each and every race.  When I got a scratch in the paint, I'd always worry that it was a crack.
I don't have to do that with titanium.
We don't all have a couple cars with spare bikes following us around in races at all times.  How many bike changes to you see the "Pros" make.  Lots.  Everytime they fall down, something is wrong with their bikes.
I think I wrote this last year, but at Joe Martin last year, Frankie Andreu, manager for Kenda/Five Hour Energy, came up and asked me why I was riding titanium frames.  I told him because I was sick of changing the parts on my bikes everytime I crashed and ruined a carbon frame.  I was riding Eriksen frames off-road, both MTB and cross, so it made sense.
Plus, the bikes never wear out.  I've had a Ybb sense the late 90's and it rides like it did on day one.  I can't tell you how many times that has been thrown off cliffs or hit the ground.  It is pretty much indestructible.
Same goes with the King titanium cages.  The cages are pricey for bottle cages, somewhere around $50 depending on where you get them.  But, they are great.  They don't break.  They don't get loose.  And they hold your bottle like a water bottle cage should.  All this carbon, etc. for cages is total bullshit.  I have yet to use a carbon bottle cage that works.  They don't hold your bottle and they break.  Valueless.
I have total confidence in the bikes I ride.  I don't even think about having a catastrophic frame failure.  When I fall, I am pretty sure I can just go and pick up my bike, if I can, and get on it and ride it again.  I can't say the same when I rode carbon frames.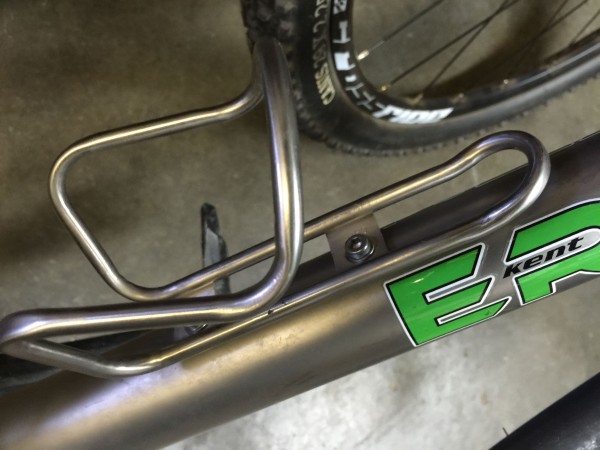 The King Titanium cage.  A lifetime bottle cage.