Velonews published an article a couple weeks ago, from an excerpt of a book  (Fast after 50), by Joel Friel, about Ned (Overend) and his preferred training method of intervals and intensity.
One of the statements in Joel's book is – research on aging in experienced endurance athletes generally supports the notion that in order to reduce the decline in aerobic capacity with advancing age, training must be intense.
I'm not sure this is actually true.  What word I dislike there is "must".
Actually, let's get back to Ned and his training.  I haven't been training with Ned recently, but I did train a ton with him when he was in his forties.  I do know that Ned doesn't ride much.  He definitely rides a lot less than most of us and his results are stellar.  The quote that I believe describes this best is – I have a short attention span for training rides.

And Ned does train hard nowadays.  Just taking gander at some of his rides on Strava show just how hard.  Like race hard sometimes.  But, does that apply to the rest of us?
I don't think so.
Here's how I've trained most of my cycling life and it seems to work.  And it is pretty exactly opposite of how Ned rides.
I like to race.  The reason I train on a bike is so that I can race.  That statement isn't meant to mean the reason I ride a bike is to race, but the reason I train is to race.  And I like to race.
I think it is impossible to train as hard as you can race.  At least for the majority of us.  I suppose if you had someone at your disposal to motorpace you at random times throughout training rides, then it would be easier to try to emulate racing through training, but that isn't available to most of us.
Somehow, the last decade or so, "the Pros" have convinced us that you can just go out and do training blocks for months at a time and come to an event race fit.  This is complete bullshit.  Those guys were usually doing some really screwy things, much which is not legal within the rules of the sport.
I think to be race fit, you need to race.  And I don't think  it is possible to train as hard as you can race.  I can go out and train and train, as intense as possible, and then when I do the first race of the season, I am surprised to death about how hard it is and how blown I am.
All these new internet coaches have signed off on this "pro mentality" and are jacking up local train rides all over the country.  Everyone has been told that they need to go and train for power and intensity.  You have to be using a power meter with a heart rate monitor to get the most out of training, to the exclusion of doing group rides.  That isn't necessary, in my experience.  Bike racing is way more complex than how much power you can put into the pedals.
I do race a lot, normally.  And maybe I'm lazy as Ned too, and don't like to train hard, I don't know.  I try to ride hard training, but not anywhere as hard as Ned does now.  But racing, local training races, or regional races, or even National caliber stage races, allow me to change fitness levels.  It is impossible to get to race form without racing. I'd even say that racing twice a week would be better than just training 7 days a week, if that were your options.
An ancillary story about Ned and his training.  We headed over to Europe to do the MTB World Cups in 1994.  (This probably the last year of normally aspirated MTB riding before the sport got super polluted with drugs) . Ned was nearly 40 then.  We'd first raced in Madrid to race in Spain and both of us, Ned and I got pretty smeared.  Me way worse than Ned.  I was never good for the first race I did after flying east to Europe.  Then we flew to Italy and took a ferry to Elba, an island off the coast, where they exiled Napoléon Bonapart.  (They gave him sovereignty over the island and allowed him to retain his title of emperor.)
Anyway, I told Ned that he needed to train more.  I got him to do a couple big rides.  I got him to ride the perimeter of the island and then go to the course and ride a lap.  I think the ride was close to 100 miles, on our MTB bikes, and the course was super hard, straight up and then straight down.  Really hard training day. (We met up with Tinker, riding the other way, with his backpack, about 1/2 way through that ride.)
Fast forward to the weekend and Ned wins the World Cup and I finished somewhere in the top top, which would have been good for me.
Same thing happens later that season.  I was riding with Ned in Durango and go him to go out on some long rides, at least for him.  Next thing I know, Ned tells me he is buying a ticket to Switzerland to ride the World Cup there.  He asked me if I wanted to go.  I tell him he is crazy flying to Europe for one race.   He goes and wins.  That was the last World Cup he won, I think.
So I think, personally, that Ned rode his best when he did some longer rides, even though it was like  pulling teeth to get him to do it.
Ned is very good at choosing when to race.  He rides until he is going good and then finds a race that suits his abilities.  Or he finds races that suit his abilities and then trains for it.  Plus, you have to realize that Ned is a physiological freak.  He has an amazing VO2 and that is genetic, not training.
I use more of the shotgun method.  I do just about any race I can find.  I don't really care if I'm fit enough or not.  I use the races to get race fit, then try to find races that suit my abilities and do well.   And, I have just good genes, but nothing off the top charts.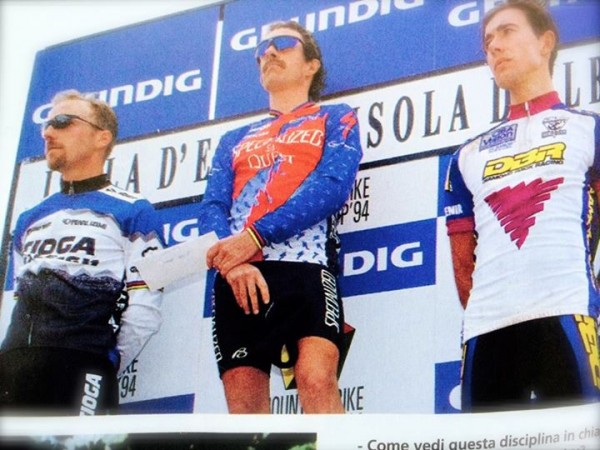 Ned and Johnny T. on the podium in Elba, Italy.  It was a super exciting race.  Here is a link to Ned's Facebook page on it.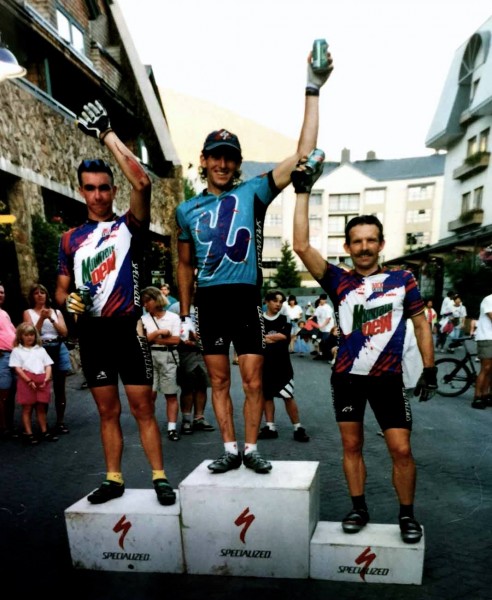 Todd Wells, Ned and I on the podium after the Fatboy Criterium in Whistler, Canada.  I'm not sure how Ned finished 3rd in that?  He wasn't normally too interested in those events.  Todd is obviously missing some skin.