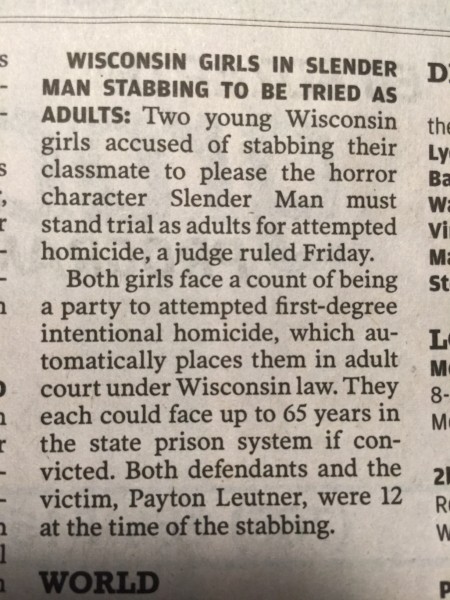 Can you believe this article that is in the Topeka paper today?  This article says that a judge in Michigan ruled that two 12-year-old girls, "MUST stand trial as adults" for an attempted homicide.
First off, I know nothing about this except what this article says.  But, I don't need to know anything else.
I can't think of a situation where a 12-year-old person should be, or in this case, must be, tried as adults.  Both girls?  That is even more insane.
What is the matter with this judge?  Actually, if you read the article, what is the matter with the district/or states attorney that decided to charge these girls with attempted first-degree intentional homicide?  He must have known that they would be tried as adults.
What is the matter with our legal system if we can't take better care of our children than this? The article says that they could each receive a sentence of 65 years if convicted.  What?  Only 65 year for sacrificing a classmate for a fictional character.  Fuck that.  Let's just hang them.
There is nothing that a child can do in our society that should mandate that.  Especially they shouldn't lose their whole lives for trying to kill another 12-year-old  for a game.
Obviously, these children had some issues if they did what they are charged with.  But they didn't kill anyone, which, in my opinion, doesn't really matter.  I don't care if they did kill someone.  They haven't lived enough to make decisions properly yet.  They need help, but  losing their whole lives isn't correct.  They get a get out of jail card here.  And that card is-
They are kids.  12 year olds.  In 6th grade, elementary school.
Come on, our society is lost when we legally treat our children as adults.