I like Chris Horner. I nearly 100% agree with what he says about reading a race and I like the way that he races normally. I've raced and ridden with they guy for a really long time. He is a blue collar rider. I think he loves what he is doing.
That being said, the last couple interviews he's done with Velonews leave me scratching my head. There are so many statements that don't really make sense it makes me wonder if maybe they were interviewing him in a foreign language and then translating it back to English. That might explain some of the answers, maybe not.
From what I get out of the articles (training article, spain article), Chris doesn't think that the Tour of Colorado is hard enough of a race and that he has pretty incredible form, after training for only "3 weeks", after a 5 month lay off and surgery. I very much doubt the accuracy of that statement.
He goes on to imply that he feels that he can win the Tour of Spain after Utah and possibly will win the race overall. As far as I know, he's never finished on the podium in a Grand tour.
Man, I don't much like that talk. I'm not really sure how you get super race form in 3 weeks of training. He's said that for sure he'll be in the top 10 of the Tour of Utah, implying better. And that he's not tired at all from the last two days of racing – 180km, and then 210 km. He must have been training really, really hard.
Like I said above, I like Chris. He'd probably be racing a full cross season if he could do it contractually. He's always been pretty vocal about predicting his form and where he thinks he is compared to nearly all other riders. But when I hear words like this, it's always worrisome.
I really hope he has had incredible numbers training and is just euphoric that he is back racing again. That would explain some of the Velonews quotes pretty well. And it would be great if he won Tour of Spain too. It just sounds screwy when he is calling his shots. But, that is how he has always done it.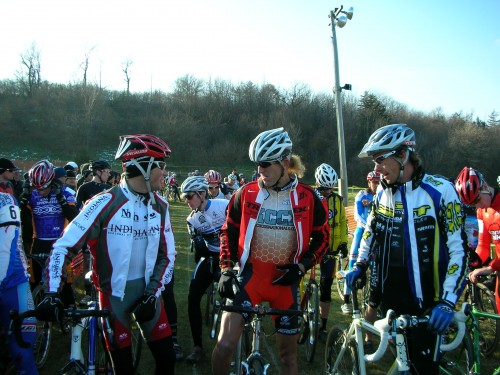 Chris, Todd Wells and me at Jingle Cross a few years back.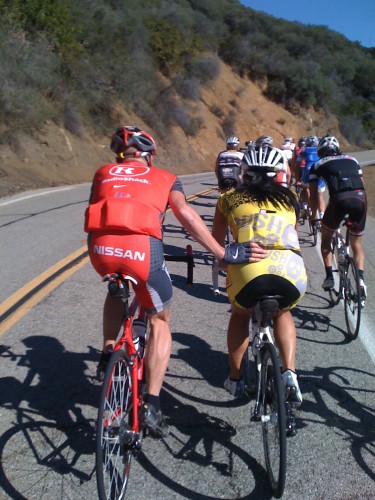 Chris, being the nice guy, pushing Mari Holden up some of the climbs at the Mike Nosco Benefit Ride.