There has been quite a few articles concerning doping and the riders reactions the past week that are off the main stream.
First there is an article about a Bradley Wiggins interview with GQ magazine where he says he is a better rider than Lance and states, "He didn't win those Tours fairly, so maybe this superhuman cycling legend was never as good a rider as me."
What's up with that? So maybe? As far as I can tell, Bradley has won the Olympics three times now and the Tour de France. Why would he question whether he is a better rider than Lance, who has been proven to have been doping nearly since he got out of diapers? It seems like a strange statement and comparison. Bradley has to know how much better these drugs makes you go. I wonder why he would question whether he is a better athlete than Lance?
Then there is the article where Alberto Contador says, "For cycling, it should be zero tolerance. I express myself less than certain others, but it is clear that there is no place for cheaters."
Wow, the poster boy of wrongful suspension in the sport of cycling says that. From a guy that is sticking with he was unjustly suspended and had to sit out over a season and lose a couple Grand Tour results. Plus, he, and nearly every other Spanish cyclists currently competing, and retired, say that the whole Lance deal was a witch hunt. Seems to me a guy that was cheated out of his earned victories wouldn't have a "zero tolerance" agenda, since his case in particular "proves" that huge mistakes can be made.
Finally, I read at the end of this Cyclingnews.com article, that Marianne Vos is heading down to South Africa to train for a month before cross worlds. She did one cross race and now is off to South Africa.
Marianne Vos has the results of the best woman cyclist of all time. She has won the Olympic Games, plus the World Championships on the Road, Track and Cross numerous times. I'm surprised she doesn't do artistic cycling too.
The problem with her going to South Africa is that it has a reputation much like Tenerife. It is a place were many pros go to train and procure doping products.
In this day and age of the sport, riders like Marianne have to be squeaky clean. The questionable action of putting yourself into a situation like this is just dumb. It's all about perception. Maybe Marianne thinks she flies under the radar since she is a woman? I hope not.
There are lots and lots of places in this World to train in warm weather. If she is going to fly 7000 miles to do that, she should just fly to San Diego. Or even Austin. Both those places are a lot closer and are a much safer place to ride a bike than in South Africa. Plus, she could get used to the food, culture and time zone here in the US, where the race she is training for, Cyclo-X Worlds, is being held. The whole South African thing just stinks.
I think all the above articles were strange for different reasons. It's sort of like someone came up with a bunch of different takes on doping in the sport, and threw them into a big hat and the riders just pulled a piece of paper out that said this is what they were going to have to talk about or do. Contador about zero tolerance was the biggest surprise here. But, the other two are nearly as interesting.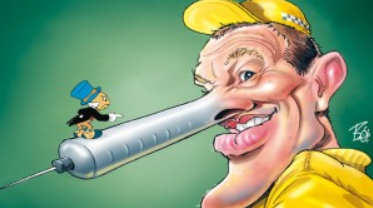 David George, an ex team mate of Lance's, was recently popped for EPO in South Africa. I'm not sure why he wasn't using Hemopure, which seems to flow like water down there. I haven't heard of anyone getting caught for that particular drug.