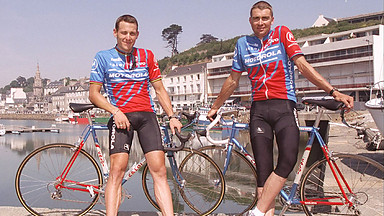 All staff, including riders and senior figures including sporting director Sean Yates, a long-standing friend and former team-mate of Armstrong's, will be asked to confirm that they have no issues that could put them in breach of the team's zero-tolerance policy on doping.
This was a quote in the Daily Telegraph that stated that Sky's Dave Brailsford asked all employees to state their history with doping. I'm sort of wondering how Sean is going to get out of this situation.
I'm pretty sure that Sean had an "issue" in the late 80's, maybe early 90's. I think it was at the Tour of Belgium, but he got out of the situation on a technicality. I think it was because the UCI released the information to the media in Britain before they notified the British Federation and Sean. Go figure. For me, that wouldn't be enough for him to lose his job, but I'm not sure what a zero-tolerance policy actually means to them.
But, Sean's statement of "I'd turn up, I'd drive the car in the Tour de France, and I never ever saw an indication of anything dodgy going on. I used to jump out in the morning, go out on my bike, go back, drive the car, and call the tactics now and then, but I never saw anything that was untoward." didn't sound believable to anyone that has any knowledge of the sport and the role of a director in the Tour.
The real problem with going too far back and making these guys fess up is that there is a point where virtually everyone has a ghost in their closet.
Back in the 90's former Belgian cycling champion Eddy Planckaert, admitted experimenting with EPO. I remember reading in the same interview something like, "If you're a professional rider in Belgium and you say that you don't take amphetamines then you're a liar."
I remember going to a race in Belgium in 1988, the last race my Wheaties/Schwinn team was going to be racing that spring in Europe. Paul Watson, a British rider and now friend of mine, riding for Hitachi, came over to us and said there was no testing that day. That meant nothing to us. Claude Criquielion had his Hitachi guys all riled up and it was 50k an hour from the gun. I lasted less than an hour out of a 200km race. It was like night and day the difference between what we'd been doing the past 6 weeks and racing that day. And that was just with amphetmines and such. It got much worse in the 90's.
Anyway, below is video of the famous finish of the 1988 World Championships in Ronse, Beglium. Steve Bauer and Claude Criquielion got tangled up at the end. I was racing that day, but didn't finish. I must of saw the sprint at least 500 times on TV when I was in Belgium. It was tragic way to finish a epic race.
Speaking of Ronse, the 2012 GVA Bpost Bank Trophy Cyclocross Ronse-Kluisbergen (GP Mario De Clercq) is on live at 7:40am Midwest time, men's race starts at 8:00am. Click here for the links at Cyclingfans.com.