Wednesday, I rode my bike over to Vail and back from where I was staying in Silverthorne Colorado. I felt like I might have been sort of acclimatized and was going pretty good. I got over to Vail with a 20.4 mph average, after climbing from Silverthorne up to Vail Pass and then descending down. The problem with the day was when I was returning over the pass, it started pouring down rain.
I see it as a problem now, because I don't feel so great. Sick would be the word to describe it, but on Wednesday when I was riding, I didn't really mind it so much. I had improved immensely descending the previous 10 days, but hadn't been descending in the wet. I didn't much like it on clinchers, but I was going okay down the bike path to Copper Mtn. considering the crazy headwind and thick rain.
I'm supposed to be heading to St. Louis in a few hours to race the Gateway Cup Criterium weekend. But since I'm feeling under the weather, I think I might skip today and head over there tomorrow. Trudi just got back from being gone a few weeks and could use the day at home to decompress too.
Anyway, no matter how hard I went down the descent, it wasn't close to as hard as I would push it if it was a race. The only way to improve cornering in the wet is to race in the wet.
It is supposed to rain pretty much the whole weekend in St. Louis. The remnants of hurricane Isaac is going through. It is weird how often we race here in the Midwest in the aftermath of a hurricane that goes through New Orleans. I don't get why it doesn't come through more on the weekdays and not on the weekends. I'm not looking forward to racing in the rain, but you can't be skipping races because it is going to be sketchy.
The problem with racing in the rain is obviously the risk of falling. That being said, again, you shouldn't be not racing because you think that there is a high chance you are going to fall, especially because of it being wet. I know a lot of people out there will disagree with that statement, but it is true most of the time.
You have to have the ability to corner fast in the wet if you are going to be a great all-around bike racer. There will be too many important days in your career where you're going to need that skill. And the earlier you learn the skill, the less you'll be laying on the ground later on because of the rain. The reason for this is because a lot of the time you fall in the rain is because riders in front of you fall. You'll fall less because you are riding much further up in the field because you have the ability to ride faster because you are good at it. Thus, you'll be riding with more competent riders, having better results.
I haven't ridden many big criteriums recently in the rain. I went over to the NRC races in St. Louis a couple years ago and it was raining both days, but I wasn't going good. I finished in the top 10, but nothing special. Nature Valley seems to have it share of wet races. The problem there is that they don't seem to have the officiating staff to score the races when the weather gets bad. I won one race there after they cut the race short, but didn't score the event and then a couple years later in St. Paul, the just stopped the race after a hour, when there were only about 20 of us left, because a motorcycle fell on a corner and they decided it was too dangerous.
That being said, it is better to start out in less important regional races to get you rain legs. It will give you more of a chance to improve, not being completely stressed out because of the competition.
I hope I feel better today laying low. You do need a ton of energy to deal with rainy condition. Especially day after day. I don't have much energy right now, but I'm crossing my fingers.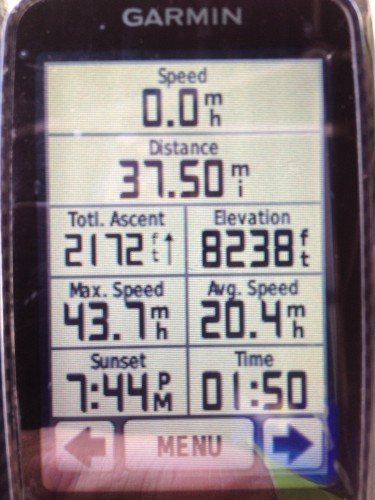 A picture of my Garmin when I got to Vail. Here is a link to Strava for the complete ride.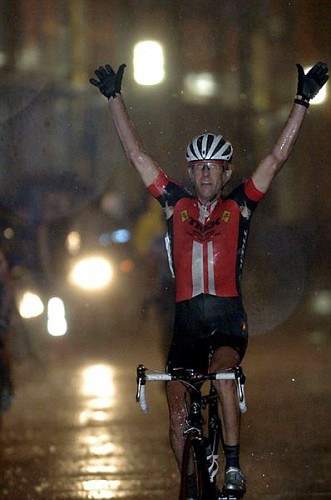 This is from the Minneapolis Criterium stage of Nature Valley I won in 2006. I was going pretty good that day.