The races recently in the midwest have been slim pickens. I haven't raced for the past two weekends and have trained in the heat for much too long. Today in Topeka, the high is supposed to be 107 degrees, so we decided to drive Southeast 250 miles and do a criterium in Springfield Missouri. It's only Bill and I, plus Trudi and Bromont, of course. Bromont missed the Tour of Lawrence because of the heat, so he hadn't been to a race in nearly a month. That is probably the longest time period he hasn't been to a race his whole life.
The high today in Springfield is supposed to hardly be 100, so it is hardly hot. We're thinking about maybe racing the Master's races at 10 and then the Pro 1/2 race again at 2:30. I usually only race Masters races when I am under raced and am playing catch up, which would apply currently.
I've been feeling pretty okay riding, but yesterday I was horrible. I felt shitty, plus one of my bearing in my bottom bracket fell apart so I had to limp the 10 miles back with my cranks all wobbly, so my right knee is sore.
Trudi has to fly out to S.F. to get a car and drive back to Utah for the start of the Tour of Utah Monday, so she has a short turn around.
Everyone get a chance to watch the men's Olympic Road Race? That race looked super hard. I can't decide if the lack of radios or only 5 rider teams made the race more exciting. I truly don't understand the tactics of some of the teams. I don't really understand why some teams didn't put more riders up at the front of the chase after the top of the last climb with 25 miles to go. And why so many guys ganged up on the British team. Tejay Van Garderen really made a huge difference in that race himself. I can't believe that he nearly single handily held off the field for the better part of 20 miles, after towing Taylor Phinney back up to the front group over the top of the climb. It sort of surprised me how few riders in the front group were willing to work too.
If Cancellera would not have made a disastrous turning error, I believe the finish would have been much different. But, we'll never know, will we. I can't say I'm that stoked about Vino winning the race. Actually the opposite. I don't think he should have even been in the race, personally, but it isn't up to guys like me. Adding to my dislike of him is because he really never fessed up or even sort of apologized for his doping issues. It seems wrong to me that he gets to have an Olympic Gold medal, for life, after he has abused his sport so much. But, he did make a very good move to get into the break and in the sprint. I guess that Columbian doesn't sprint too much, because I have never seen anyone blow a sprint as bad as he did there. But, he is probably stoked to have a silver medal from the Olympic games, so I'd bet he isn't beating himself up too much about it.
Okay. I hope the women's road race finishes before I have to leave to head over to the race.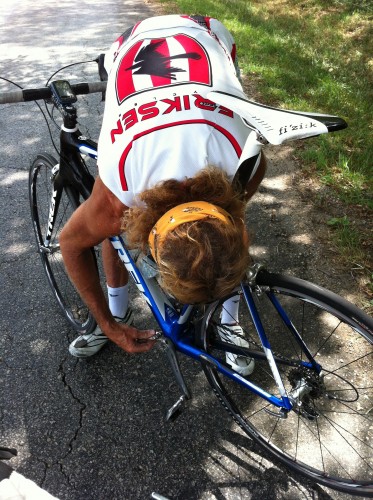 Reattaching my crank after the bearing fell out.