I watched a video of Sean Yates, DS of Sky a few days ago and he was describing the tactic of Sky and said something like, "It's not the swashbuckling days of the '80s when Hinault was attacking left, right and centre." Then he goes on to explain how the commercialism, media coverage and sponsorship dictates the races. The statement that really bugged me was, "They're not in it for fun." I don't know whether he means the sponsors or the riders. The video is here at Cyclingnews.com.
I never felt anywhere near this way. Don't get me wrong, the money in the sport is great. But, 99% of the time, I'd do it for free. The 1% of the time it completely sucked, it was nice being able to fall back on the, "I'm doing it for the money", card. And most the sponsors that I've ever had have been into the sport too. Not only for the exposure, but also because they supported cycling in general. I guess maybe it would be better riding for Andy Rihs, huge cycling fan and benevolent sponsor of BMC, than for Sky.
Anyway, I know racing bikes becomes a job eventually to some people. If that is the case, I suggest they go and find another job, because making money racing bikes is a very hard way to make money. There are tons of other things to do in this world where you can make more money with much less dedication and effort.
I hear so many people comparing the drugs in cycling to the "American Sports", mainly baseball and football. When the mentality in the sport of cycling concerning drugs mirrors the mentality of American Sports, then I quit. But, when the money becomes astronomical, at least astronomical compared to a daily working wage, then the rewards for cheating through using drugs becomes more and more tempting.
I'm sorry to say and happy to say that cycling has gotten to that point. Actually, it kind of sad to think that a guy making 50,000 euros a year would take drugs, compared to a baseball player making 25 million per year. I think I heard that there are ten baseball players making more than 20 million per season.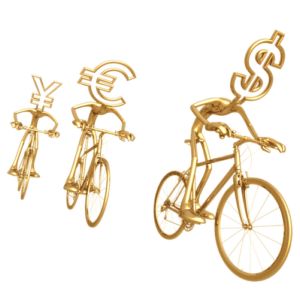 So far only 2 riders have been kicked out of the Tour this year for drugs. Frank Schleck happens to be one of them. It's a shame because I was just starting to like Frank. I've historically not liked either of the Schlecks because of their unprofessional way they approach the sport. What they did in the final time trial in the Tour last year was an embarrassment. Forget how fast they were riding, the way they handled their bikes was pitiful. I thought at least one of them was going to get off their bike for the speed bumps on the course. If you're to the level that they are in the sport, you have to be able to ride a bike much better than either of them do. Up and down hills, not just up. And turning too. They don't do that very well.
But, I watched a video of Frank after one of the stages and he was refreshingly candid. Then he gets "poisoned" during the race and probably is going to have to sit out for 2 years now. I bet a lot of folks are going to believe that answer. Sounds plausible. He must have a lot of enemies out there. At least one for sure. But, Frank didn't sound like he was having so much fun this season during the video, describing how many race days he's done so far this season, 74, so maybe he does need to sit out for a bit and gather some excitement for the sport again.
Anyway, when the team directors start acting like the sport is a business, then the riders are going to act accordingly and then it is going to get more convoluted than it already is. The sport is just sport. The money is a fringe benefit. That's the way I look at it.
Even Jonathan Vaughters blames the money, for whatever that is worth – From a Cyclingnews.com article today concerning doping and Schleck –
Garmin-Sharp team boss and anti-doping advocate Jonathan Vaughters extended his reaction on what he thought was part of the "root of the issues" in cycling. The American pointed at the current management system of pro cycling as it has been conceived by the International Cycling Union (UCI), saying that the unstable conditions it created could be one of reasons why riders resort to doping;
"Cycling, from a fundamental standpoint, needs to be built on a more secure foundation," the American stated. "It cannot be a year-to-year lisensing process where the teams licenses depend on points. It has to be an environment where riders have longer term contracts, where teams have longer term contracts with top events, which would reduce a lot of the issues. You should make it a league and with that concept you would get a fundamental foundation for consistent employment and you would eliminate a lot of those risks."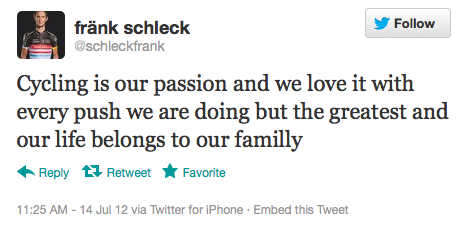 He says he loves it, but I'm not so sure.