Yesterday I went out for 90 miles. I've been pretty tweeked the last couple weeks. Yesterday I felt better. Better enough that I'm thinking about trying to maybe race this weekend. I still am not having much luck standing up with any type of power, but I am better than I was a few days ago.
Anyway, there is a perfect race for me, the Crawdad Kermesse, down in Harrison Arkansas, on Saturday. The guys there have been asking me for months to come down and race it. I actually saw them the day after I fell in Joe Martin and told them that I planned to have their race be my official first race after falling event. I really didn't have any idea at that time if that would happen, but it isn't out of the realm of possibilities now. Plus, how can you not go to a race with the name Crawdad Kermesse.
The course is only 3.6 miles and has 400 feet of climbing per lap. It sounds pretty hard. It has a point that is over 20 % grade. I love challenging courses. I like short circuit races. So this is perfect. Plus, the race is being held in conjunction with The Crawdad Festival. I have no idea what to expect there, but it is a true Kermesse in that since.
Anyway, here is a link to the race. If you don't have anything else going on, come on down. Sounds like a good time.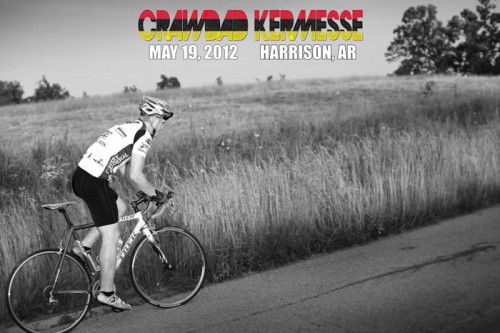 Yesterday was a good day to ride bikes. It was in the 70's and the wind was hardly over 10 mph. It was Mother's Day, so I didn't expect much of a turn out. Plus, Bill, Brian and the other TradeWind Energy guys were in St. Louis at Tour de Grove. Anyway, we did a loop south and then west of Topeka. I like riding west. The road to Harveyville crosses the Santa Fe Trail. There are signs signifying the trail ruts, but I don't really see it. By the time everyone had turned back, there were only 3 of us left, me, Teddy and Catherine.
I knew I was going to be in for an all day pull. Which is fine. I got into an okay rhythm after stopping at 40 miles for water. I actually ate a piece of pizza at the Casey's. Maybe I need to do that more often before races, because I felt pretty good the whole way. Not great, but nothing like I've been feeling like. When we got back into Topeka, we had a 20.4 mph average for the ride. Considering the pace for the 1st half, that was pretty good. And considering it was headwind all the way home, it was excellent.
It is great here right now. It has been raining pretty consistently, so everything is green. But, with that, there seem to be more bugs out. The other day when I was riding with Joseph, he got stung by a bee and a wasp. Catherine was stung by a bee yesterday. I was stung by something too. Bigger than a bee I think, but I'm not sure. There is a picture of the stinger below that Catherine removed from my chest.
I'm going to try to ride for 4 or 5 hours again today. I have no top end, but that is okay. I use racing to get that back.