I've been hurt a bunch racing bikes. Bicycling Magazine did an article on me a few years back with a semi-nude shot and pointing some of the injures I've incurred throughout my lifetime racing bikes, along with the attributes of being an athlete. It is kind of weird because I haven't really been hurt too bad recently. It seems like all the little nicks are turning into lifetime injuries, but that is just age. I haven't had a broken bone or really bad crash for a few years.
I don't wear a helmet much training. Okay, here I admit it, I actually never wear a helmet training. And I've hit my head a bunch on the pavement. With a hairnet helmet, no helmet, hardshell, whatever, I always seem to get rattled just about the same. It isn't that I don't understand that it would be much, much safer wearing a helmet while out on my bike with automobiles, it is that I just hate wearing a helmet period. I actually have a hard time remembering what helmet is mine most of the time. I was talking to Chris Horner a couple months back at a cyclo-x I did in San Diego and he concurred with me on the helmet thing. He told me he packed up and flew to many races and completely forgot his helmet. He'd have to call someone at Giro and have them overnight him a helmet at the race. Boy, if it was just that easy for all of us. It's all probably just old school, when we didn't even have to race with helmets if we didn't want. I don't know, I just haven't had a helmet in recent years that I'm attached to much.
Anyway, I am constantly surprised that so many riders, many professional riders, are breaking so many bones nowadays. Especially collarbones. I've always attributed the main reason of collarbone fractures to toeclips. Ever since I had clipless pedals, I've never broken a collar bone. And before, I broke it all the time. Close to once a season at least. With toeclips, when you go into a pile, your feet stayed connected to the bike, which stopped in the pile, thus throwing you over the front end and on to your head/shoulder. Now with clipless pedals, you are going into the pile, you twist your body to try to miss it by maneuvering your bike, but you've release your pedals by this point. So when you hit the pile, your bike stops and you get throw forward, not down on your head. This new superman position launch is good for not breaking bones, but not so good with getting a ton of road rash every where on your body.
I used to race pretty quickly after getting hurt. It all started at a young age when I was an intermediate(junior 13-14). I crashed in Superweek and broken my collarbone on Wednesday. We got in the car and drove back to Kansas and I saw an orthopedic surgeon on Thursday. I now don't know to think of his decision making process, but I talked him into telling my mom that it would be okay to race the Nationals which were on Saturday. So we jumped back into the car and drove back up to Milwaukee for the Nationals. I crashed in Nationals again, off the front with Jeff Bradley, because my clavicle strap was too tight, cutting the blood flow off to my arms. That doctor was pretty old school himself I think.
I once pretty much destroyed myself hitting a car in the 1985 British Milk Race at 60 mph or so. I broke my collarbone, leg, hand and had a pretty bad concussion. I raced the Coor's Classic less than 8 weeks later and then the World Road Championships right after that. In those days, it didn't seem like a big deal to race as soon as your body would allow it. Cycling is very easy on your body as long as you don't hit the ground too often.
I still wonder why they always operate on collarbones of European riders and here in the US we have to wait it out naturally. Just a couple weeks ago, Sebastien Rosseler, a new addition to the Garmin Team, from RadioShack, broke his collarbone training. They said he was going to be off the bike for a week. That is pretty quick to be back riding. Surgery allows that.
Anyway, riding while hurt has never seemed to prolong a injury. I broke my hip in the mountain bike version of the Tour de France, The VTT. I got back to Topeka in just a few days and asked the doctor when I could ride. He asked me if I was walking up and down stairs. I told him yes. He said, go ahead. His rational was that walking up and down stairs puts a lot more stress on the hip that pedaling a bicycle. I was all for it. From my experience, riding through crashed cased injuries makes the healing process quicker. But, maybe I've just been lucky all these years?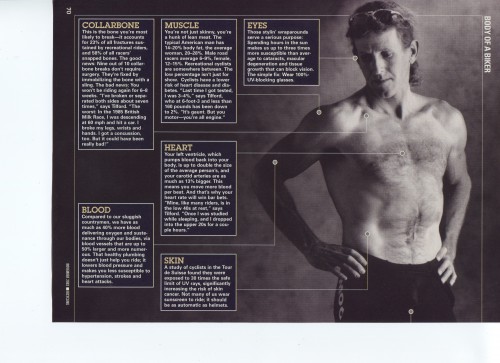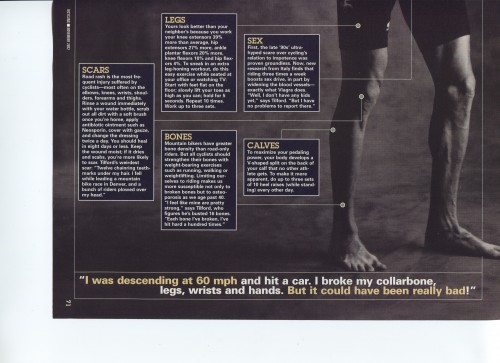 The article was a 2 page fold out. You can click twice to enlarge either one.