Friday before this race usually disappears before it even happens. Today is not going to be any different. There is too much stuff to do.
If you've been reading this, you'd know I've been having a wheel/tire quandary. I call Scott Daubert at Trek and he got back to me last night. Turns out he sent a pair of his personal wheels up to the race with Matt Shiver. Matt took over the job of Team Liason between Trek and the RadioShack/Livestrong teams. It is a hard job. And if you watched the movie Race Across the Sky, Matt was prominent, finishing 3rd on the day after setting tempo all day.
I'm going to try to track Matt down pretty soon. The wheels are about a pound and a half lighter than the wheels I have, but the tires might been too light. They are 50mm Dugast MTB tires. I'll test them out this afternoon. I'm not sure if I need to take a risk to try to win. I used to take a bunch of mechanical risks in important MTB races, Worlds, etc. because I needed to take risk to optimize my places. I'm on the fence here.
On paper, this field might be the best ever. Christian Vande Velde, Garmin, Jason McCartney, RadioShack, plus the normal players of Brian Matter, Tristan, Doug Swanson, etc. Brian Jensen from my TradeWind Energy team is going to make an appearance today sometime. This should be really interesting. I'm thinking Brian Matter is the favorite, but you never know. I haven't been following his results this season, but he is always good here and here is where we're at.
Okay. I'd better go track down those wheels and get the day going.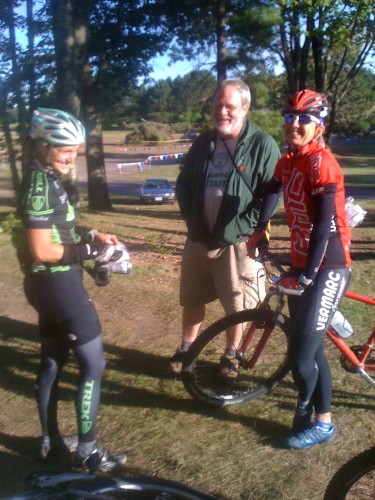 When we got to Telemark yesterday, Gary was there and always ended up migrating to talking to the girls.