Yesterday's criterium was about all I needed for training. Probably too much. I wasn't that motivated for racing again. I actually fell asleep in my van after breakfast for an hour and didn't wake up until an hour before the race. I hate trying to get moving, warming up for a race, after napping. It never seems to go too well.
Anyway, the race was fast. At least it seemed fast to me. I didn't look at the overall GC until a couple minutes before the start and realized that the whole race was going to be moving Colby Pearce up from 4th to 3rd overall. He was 24 seconds out and there was a 30 second time bonus for winning.
So, pretty early on, I was too far back, and I saw "the break" go up the road. The front of the field spread out, but I still got up there pretty quickly and jumped. It took me nearly 2 laps to catch the 6 guys away. I was gassed. Keith Harper and Colby kept the pressure on. I think I just needed a lap, maybe even a 1/2 lap to rest. It was pretty windy and I couldn't seem to ever recover. After 4 laps or so, the guy in front of me sat up and I didn't even attempt to go around him. I couldn't improve my GC position, but that wasn't the reason. I was gassed. I went back into the field and it took me a good 15 minutes to feel okay.
The break got up to 40 seconds before Nathan Wilson, California Giant Strawberries, start motoring. He pulled pretty much the last 10 laps by himself and brought the break back almost until it was caught at the finish. That kid is good. Really good.
I guess Keith Harper led the sprint out, threw up his arms, prematurely, and was nipped at the finish by Colby Pearce. The average speed of the race was 28 mph, which was pretty quick considering how windy it was.
I got everything out the this race that I was looking for. It was the perfect length, 4 days and just about the right caliber field. I finished 10th overall, which is a bit irrelevant.
Colorado racing is a little strange. The field didn't seem like a normal Pro 1-2 field. It seemed more like a 1-2-3 field. There was a huge diversity in abilities. Not only climbing, but in the criteriums. The TT times can't be taken into consideration because of the difference in winds.
I paid $205 to race this race. I would have had to finish top 4 to win my entry fee back. The entry was $165, plus $40 more for 4 days of an ACA license. It seemed really a lot too high. I couldn't afford to race in Colorado if this is a common entry. I think I used to know why Colorado quit USAC, but it seems kind of a hassle now. The are lots of problems with USAC, but having a bunch of individual groups running races is not good for the sport. Plus, I hate it that USADA isn't ever going to do any drug testing on riders from the ACA. And I presume that the ACA doesn't have any ability to test their own riders.
I was going to ride MTB bikes with Kent, but it has been raining all morning. I guess I'm going to load up and head to Durango to hang for a few days and ride off-road. I haven't been there for a few years and Ned is getting back from Europe soon. Maybe Todd will be back and I can catch up with him and hear first hand his version of his 7th place finish at the World Championships last weekend.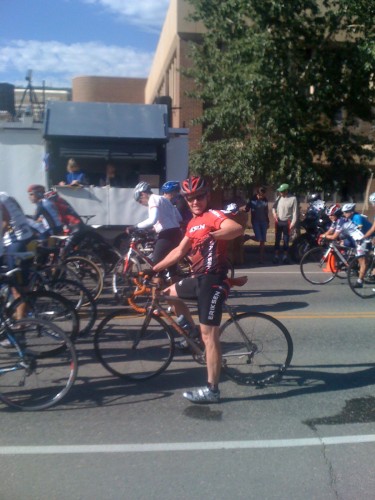 Here is Kent before the start. He has only ridden his road bike 5 times this year. The day before the race, plus the four race days.