Yesterday was a wash for riding up Mt. Evans. It was already super cloudy in the morning, thus not conducive for riding up to 14,000 feet. So we decided to ride over toward Boulder and do a lap of the Morgal-Bismark course from the Coor's Classic.
I haven't ridden it recently and couldn't believe that I couldn't recognize the bottom of the hump. There is a Whole Foods and Apple Store where there was a field. I was so mixed up riding over there that I took us down the Wall and Hump before realizing that we needed to turn around and ride back up them. I was surprised how hard the Wall really is. I thought it was pretty short in the race, but the lead up to the climb is all uphill, making the climb much longer than I remembered.
Then last night we went over to Pearl Street and people watched for awhile. That place is a gathering spot for a large variety of eclectic people. It is great just strolling.
So, we're about ready to load up and go over to my friend's Mike and Judy Hudson's house, in Kittredge, and ride the 32 miles up to the top of Mt. Evans now. It is completely clear, so weather shouldn't be an issue hopefully. I'll take some photos.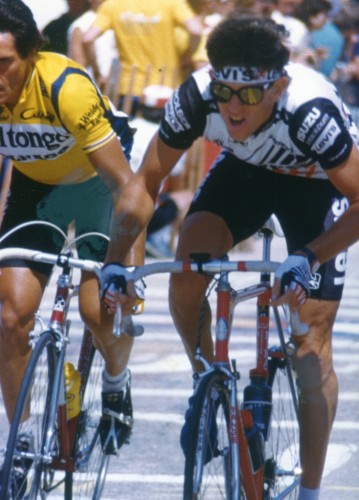 I've posted this photo before. It is of me winning a $500 preme, from Saronni, in the 1986 Morgal Bismark.