Okay. Just got back from the BMC party at Club 1515 in Paris. It is nearly 4 am. Man, talk about sleep deprivation. Trudi didn't get here until after midnight last night and was all jacked up from driving and wanted to go out and get something to eat. We didn't get back until after 3am and she got me up at 8 to go eat breakfast. I don't really care, other than I'm whining here, mainly because I wasn't planning to come close to getting on any schedule sleepwise. I flew from California, which is 9 hours off, so there was no chance at all that I was going to get over jet lag in 3 days
The party was good. But, it was like Las Vegas, where the time just seemed to disappear. It was after 12am before they even served dinner. I sat at a table with Raúl Alcalá and his girlfriend. It was super nice catching up. He is a super, down to earth guy. You should check out the link on his name. Pretty unbelievable career in such a short time.
Cadel made a pretty nice speech. But the night was all about just celebrating the win. Everyone seemed to be in a pretty good mood. Not that I expected much less. Och (Jim Ochowitz) was great. Especially dancing afterwards. But, no one, I repeat, no one can match Brent Bookwalter. That guy needs to have a youtube video of his dancing. I don't know if I have a photo of it, but it is amazing. I asked Jamie if he was wasted and she told me it doesn't matter, that is just how he moves. It should be witnessed by the whole planet.
Okay. Lots more to post, but we're leaving to Brussels in less than 4 hours. Shit. That is going to be ugly.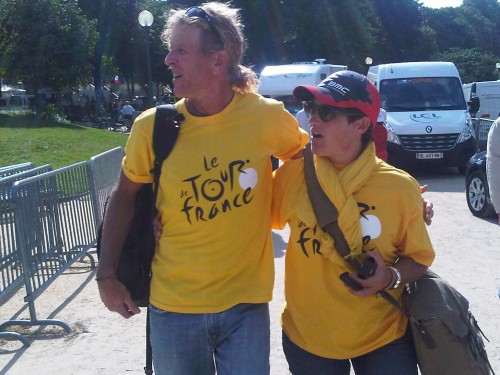 Me and Els Dejonckheere walking after the finish of the stage.