Iowa City Road Race was this today. It was only 52 miles since they were running a 13 mile TT for an overall omnium an hour after the finish. The conditions were perfect for us. Us, I mean The TradeWind Energy guys, Bill, Brian and me. It was pretty windy. Not super windy by Midwest standards, but probably around 25 mph. So, there was going to be some hard sections. And the main hard section was on the side with the hills.
50 something guys lined up for the start. All the normal regional guys. I haven't been racing very much, so I had no idea how anyone was going. Since there was wind, the field was pretty twitchy. Everyone was riding attentive. The gutter riding section was after 9 miles or so. We got to the front and rotated for a couple miles. There were maybe 20 guys left. Pretty soon a good group got rotating and it got down to 16. We rode one more 13 mile lap and a do over once again.
This time there were 7 of us. Bill, Brian, Nick and I, plus Adam Bergman, Texas Roadhouse, Zach Reed, Dogfish, and a local Mercy guy. We had 26 miles left and everyone just rode. Everyone was knowledgeable enough to know if they tried to sit on, they would be riding by themselves soon after.
Brian and Bill were riding the TT, so I figured we should just wait until the last stretch, a few miles from the finish to sort it out. Which we did, on a long gradual hill, we put it back into the gutter. Zach and the Mercy guy were shelled and Adam finally worked his way back into the rotation. So, it was the 4 guys in my van, plus Adam.
The finish was a little uneventful, but worked out great for us. I led it out from a ways out, Brian came by with Bill, with Adam right there. And that was the finish. Nick rolled by me for 4th, which was fine since he's doing the overall omnium. Brian did manage to get one arm up.
Brian rode a 29:10 for the 13 mile TT, which seemed crazy fast to me. It was windy. And no aero equipment. They didn't hang around for the finish results, but he has to be leading overall.
Catherine won the women's race in from a group sprint. So, I'm the worst finisher from our van at 5th.
I did get pulled over on the drive from Davenport to the start. 75 in a 70, driving on a Interstate. I think the guy was looking for some drug thing or undocumented workers. I had to go back into the patrol car and answer a ton of questions that were on my driver's license and registration. And say why I was driving from the East when Kansas is West. Strange. Got a printed warning for the infraction. I must be some sort of cop magnet nowadays.
Tomorrow is the Old Capitol Criterium in downtown Iowa City. It is a great course. Pretty hard climb. 40 laps. It is supposed to be 20 degree cooler tomorrow. I was pretty hot today in the mid 70's.
It is amazing how important it is to stick with your guys in bike racing. Especially when it is windy. That was the key here. If you just stick to that tactic and you're moderately strong, the results will be there.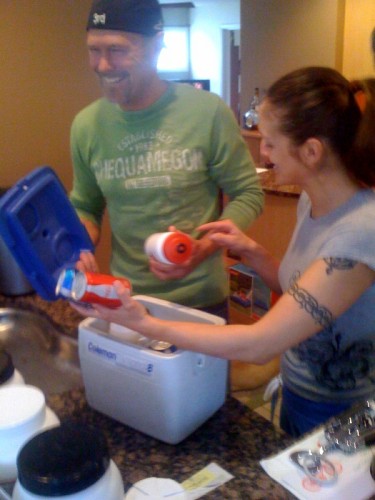 Deb Wood showing Jeff which liquid was for the race and which after. She has beer and Coke in her left had.