about last weekend. And this radio thing and power struggle for control of professional cycling and all its potential money. The struggle is like struggles in all other businesses. Who controls the power and who gets the money. And I'm thinking that professional cycling has just become a job for most this guys. How sad.
I guarantee that most riders don't want radio earpieces. The ones that do are racing for money and not for the love of the sport. I'm pretty pessimistic about a lot of aspects of the sport. The drugs aren't leaving nearly as quickly as I'd hoped. The races are getting more and more boring. Only the "superstars" get to win. Etc. Etc.
Most the guys in the pro peleton are alright bike riders. Not great, but good. And most these guys, after they have paid their dues by riding a few years, have it in their abilities to win big races on "their day". We all have those days. The days when our pedals have no resistance and we can turn them at any pace we like. It is rare that one of those days happens on a race day. Even rarer when it happens on a big race day, on a course that suits your abilities. But, when one of the "regular" guys on a team has one of those days, it is wasted. He doesn't get a chance to showcase his abilities because he has a job to do. And his job could be a menial as fetching water bottles all day. Shit. What a bad existence. I'd rather be touring with panniers.
So, this power struggle is happening so the teams with the money can decide how they can make the most money from the sport. I hope it works out for everyone. Especially the riders. Because most of them are just going to be water boys for their whole career.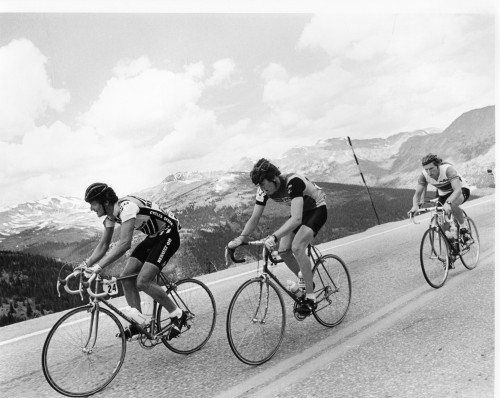 Here's a photo from the 1981 Coor's Classic of climbing Loveland Pass with Marc Madiot, Thomas Prehn and a Russian guy. Marc went on to win Paris-Roubaix a few years later. I was nearly having one of those days that day. Not quite.
And here's Marc doing his team director thing nowadays. I wonder which day he would prefer? And I also wonder if he would want to be on the other end of this "conversation"?