I know that publications and internet sites have to write about something. They need content. But, Kristin (author) must of been a little off her game when she came up with this article and list. Here is the article from Cyclingnews.com that is all jacked up.
The feature article is about North America's top riders to watch in 2011.
First of all, 6 out of 10 riders on the list aren't even from North America. So it seems that the title of the article is misleading. One other, Svein Tuft, who is Canadian, ie. North American, was on a Pro Team the last few years and finished 2nd in the World Time Trial Championships a couple years ago. So, if we're including Svein, we need to include every rider from Europe. We might as well list Chris Horner, Tejay Van Garderen, Cavendish and Cancellera.
And, Lawson Craddock? Lawson is a very good bicycle rider. But, he is 19 and last year he was a junior. I beat Lawson in a week ago Sunday in Austin, on a hard course, when I was riding on one lung. He is very young and needs some time to develop. He has a ton of potential. But, that wasn't what this article was about.
So, Lawson is on the same list of best North American riders with Francisco Mancebo? 35 year old Francisco, who in my mind, legitimized Operation Puerto, when, on day one, when he left the 2006 Tour de France and instantly announced that he was retiring. Then, when Puerto got all messed up in red tape, came back riding for Rock Racing? It is a insult to Lawson, or any other rider, to be included on a list with him. I have no idea why he is racing in the United States. Maybe Gord can call Franciso's partner in crime, Óscar Sevilla, and convince him to come back here to play.
Anyway, I know a lot of times I don't really have much interesting to say. But, if you have nothing interesting to write, don't replace it with an article that is insult to all the other riders from North America.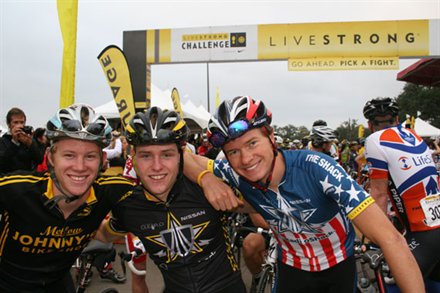 Trek-LIVESTRONG's Lawson Craddock, Gavin Mannion and National PRO Champion Ben King. Ben must of not qualified for the list somehow. Maybe he's too much from North America or just too good already.