Yesterday I woke up sick. Guess I touched too many people in NYC or on the way home. Flying in the winter sometimes isn't the best idea. Anyway, I don't get well too quickly usually. I don't have a spleen. I fell out of a tree when I was 6 and ruptured it. The spleen filters your blood and keeps your lungs from being infected. I have to get pneumonia shots because of it. Anyway, I'm not a Sven Nys that is sick and Friday and wins a World Cup on Sunday. Sometimes I stay sick a long while.
But, I don't stop riding when I'm sick. I just ride easier and shorter. So, I guess I have a couple days to figure out the weekend. I'm not big on traveling ill, but sometimes racing sick makes you better quick. Don't ask me why that is. I just know by experience.
I hate routines. It seems like as you age, you do get set into routines easier than when you were young. I'm not sure why that is. But, I try to avoid routine with a passion. Bromont is on a routine. He has to go running when I get back from riding. And he has to go for a walk between 10-12 at night. He usually starts bugging me by 10:30pm if I haven't acknowledged that we're going soon. So, I'm trying to avoid routine, but my dog gets me on a routine I love. Strange.
Last night, our cat Lilly went on the whole dog walk through the neighborhood. When I got about a 1/2 mile away from home, I finally picked him up and carried him. He just wanted to watch what Bromont was doing. They're buddies.
Did you have a chance to watch the Westminister Dog show on TV the last two nights. A Scottish Deerhound won the Best of Show. The dogs I saw in front of my hotel on Sunday must of been there for the dogshow. I kind of wished I would have stayed another day to watch. Would have been fun.
Okay. I've been trying to drink a bunch of fluids. I don't really think that helps me get well any quicker. Seems like I just have to pee a lot more often. I've been making fresh orange and grapefruit juice though. Seems a little like a waste, since I can't really appreciate the taste as I should. It good for your mind either way. I'm going to do all the things that you're supposed to do. I should probably just start taking antibiotics.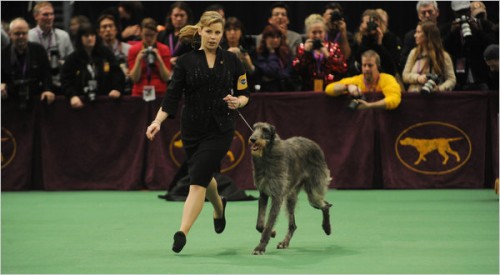 Hickory, a Scottish Deerhound from Virginia.