I was supposed to be driving to the airport to fly to LA in a few hours, but now it looks like I'm staying home this weekend. There isn't a specific reason. Lots of things. I weighed all the positives and negatives and it just got too lopsided towards the later. And Catherine's main sponsor (work) had some other ideas, so it wasn't good for her either. I do need to train some and the two days of travel would be the exact opposite of that. Plus, cyclocross at 90 something degrees didn't seem like it would be so much fun.
Trudi has to take the BMC car she drove back from Pro Road Nationals to the airport this afternoon, to give it to Ian (mechanic), so he can drive it to Boulder to measure Taylor Phinney's bikes. I wonder if he knows that Taylor is in Australia, at Road World Road Championships and Davis is in Scotland, at the World Parkinson's Congress. I guess he'll make due.
So, racing here, locally, I guess. I can go to KC and do a couple races or Omaha and do the same. I'd like to ride to KC and then race both days, but since I haven't recovered since last weekend when I did that, it might not be such a good idea. We'll see.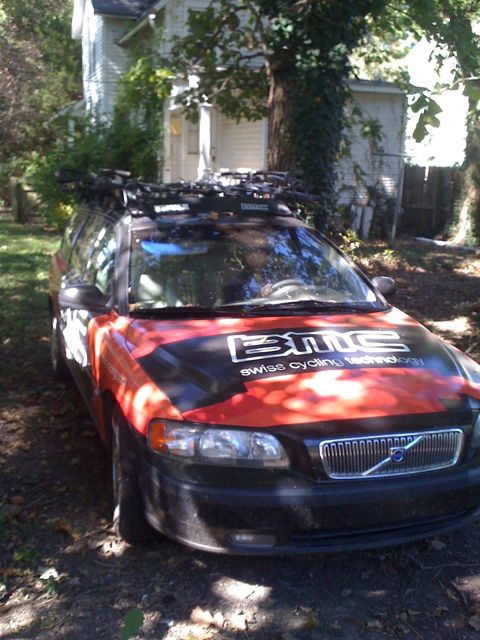 BMC Team car storage.