I've been thinking about this a while. I've heard a million reasons why Americans are fat. Why our children are fat. Why the parents are fat. I usually hear two reasons – it is because of the shitty food we all eat. And it is because we all sit in front of the computer and TV, especially our kids, and aren't outside and exercising nearly enough. I'm not going with it.
This weight gain scenario has happened mainly in my lifetime. I went to elementary school with 60 other kids my age. There was only one child out of 60 that I considered chubby. He wasn't even close to fat by today's standards. Every other kid was skinny as a rail. And a lot of these kids didn't have much interest in sports and most all of us ate the worst for you, best tasting, food we could get in our mouths. This was the era when McDonalds really kicked into gear. Hostess were coming out with new products all the time. Canned potato chips. We ate candy and drank pop whenever we could. And no one was even close to fat.
So I think that the reason that most Americans are fat is solely because of climate control. Heating and A/C. And I do mean the word solely. I think that we have limited our exposure to variants of temperature so greatly, that we don't use nearly as many calories controlling our body temperature, thus we're all getting fat.
I know that might sound kind of screwy, but here is the math. It takes 3500 calories to gain a pound of fat. So to gain 20 pounds a year that is 70000 calories extra. If you take that 70000 calories and divide it by 365 days of the year, you get 191 calories a day. Divide that 191 calories by 24 hours in a day and you get 7.99 calories an hour. So to gain (or lose) 20 pounds of fat a year, you have to consume (or burn) around 8 calories extra an hour, 24 hours a day, 365 days a year.
That isn't much. I've read we burn around 700 calories an hour when we're training on our bikes. That is close to 12 calories a minute. So, in theory, if you really wanted to lose 20 pounds in a year, all you'd have to do is ride you bike, at our training speed, around 16 minutes a day and you'd lose that 20 pounds. That's just a little over a quarter of an hour. But, it seems that people get on these exercise routines and don't lose close to that much weight.
It takes a ton of energy to heat and cool our bodies. Regulating the temperatures of our bodies takes the majority of calories we consume. As humans. Especially as athletics. If you want to read a long paper on this, click here. Being a little out of your comfort range in temperature takes much more than 8 calories an hour. A lot more.
I experienced this extremely driving back from Delavan on Monday. The A/C on my van quite working. I had the parts to fix it, but in the State of Wisconsin, they don't sell 134a unless you're a certified repair person. Anyway, we drove back the whole 9 hours with no A/C. It wasn't even that hot until we were getting closer to Kansas. Most the trip was in the mid 80's. And I was toasted when I got home. It was a combination of the heat and the air movement/noise. I finally put a piece of tissue in my left ear because of the wind noise. I burned a ton of calories. Bromont was exhausted in the back seat. He burned more calories than I did for sure. Probably something to do with being covered with hair.
This was pretty normal when I was a kid. We used to go on vacation to Colorado in a convertible. My brother and I would be in the backseat, in the sun all day. We were so sunburnt by the time we got to Denver. That doesn't even take into consideration the wind and noise. We didn't have any air conditioning in our house until I was 13. Then it was just a window air conditioner downstairs. When I moved in with my grandmother after than, we didn't have any air conditioning at all. Nearly all summer, I'd sleep outside on a deck on a cot. Or if I was sleeping inside, I'd have a fan blowing on me all night. And in the winter when I was a kid, I remember coming downstairs and sitting next to the heater register with a blanket over me eating cold cereal before going to school. It was cold in our house in the early mornings in the winter.
But this is not the case anymore for most Americans. Everything is so climate controlled that college students wear shorts in the dead of winter at KU. It amazes me riding through campus in January how many students are wearing shorts. That wouldn't have worked when I went to school. I would have froze.
I don't have a solution how to "fix" this problem. I don't want to be driving around all summer with the windows open at 80mph. And I don't want to be waking up in the morning shivering in winter. But, we are burning way less calories than our parents did because of climate control. So since we don't want to be either hot or cold all the time, we as a country need to address this weight problem by – eating less junky food, not sitting on our butts so much and exercising more.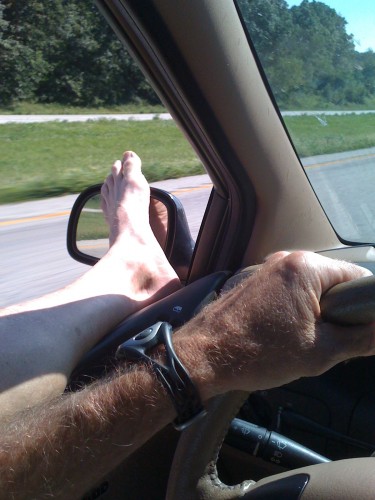 This was my normal driving position most of the way back. It was okay for the first few hours, but got kind of old after 700 miles.