Like I said before, this morning I went by the BMC Belgium service course and borrowed a bike from Ian Sherburne, head mechanic for BMC. There is a ton of stuff there. I've been to a bunch of different PRO Team's service courses. This one was the most well organized of any I've seen. All the cars are inside, trucks and the bus are inside. There are sections for each rider's bikes. Cadel has something like 15 different bikes. Ian said that they took 5 bikes for each rider to the Tour de France. Pretty amazing.
I've never ridden Campagnolo 11 speed parts until today. I'm not going to give them the thumbs up yet. It was a nice try. And I should really be giving them the benefit of the doubt. I adjusted the gears for Brent Bookwalter's spare bike and it had probably been washed 20 times with diesel and water without him riding it once. The frame is super stiff. It rides much like a Trek Madone. No complaints there.
I just got back from a ride along the canal down to the Kermese and then back up to Deinze and back to Izegem. It was a couple hours. Dead flat. Completely. Nice for recovery ride, but I ended up riding hard for 30 minutes or so just because I felt like it. Going into Izegem for some pizza or frites tonight. Tomorrow I'm going to ride up to Brugge maybe via Holland. Should be fun.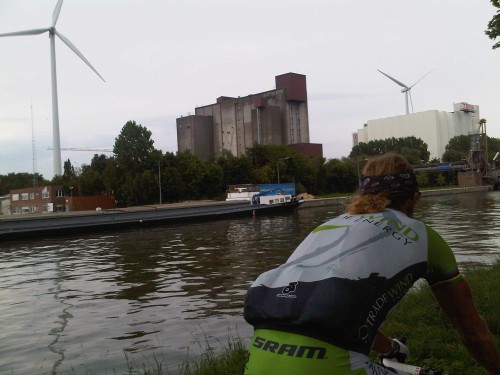 Riding along the canal with the wind turbines in the background. Good for Tradewind Energy's future.