One of the symptoms I have from this virus thing I've had is not sleeping in the middle of the night. I like to sleep, so this is a big inconvenience. I woke up at 2 the other night and didn't have anything to do. I made some toast, then opened my computer. I normally try to stay off the computer at night, realizing it is a waste of time and just makes me more awake.
Anyway, I didn't abide by my unwritten rule and opened my laptop. I don't remember how I got there, but I ended up at a podcast that Lance is doing. I hadn't heard about it, but he has done 5 or 6. The podcast was with Tim Commerford. He is a famous bass player for the bands Rage Against the Machine, Audioslave, Future User, WAKRAT, and a friend of Lances.
It was interesting listening to a musician talking about his love of cycling, mainly MTB riding. I guess he did Leadville a couple years ago. He said he uses Strava and climbed 1,000,000 feet that year. That is pretty impressive. He lives in Malibu, so he must just climb on the trails there. But the number is impressive no matter what.
Anyway, like I said above, Lance and Tim are riding buddies and friends. It was easy to realize that Tim doesn't think that Lance did anything wrong, doping-wise. Lance was making more off-the-cuff remarks about doping than Tim. Tim was saying he plays angry and that thought that Lance competed angry.
I was thinking how the subject is pretty divisive. Either you're with Lance or not. There isn't that much gray area.
Then I saw this commentary by Fred Dreier, the executive editor of Velonews. It is about Washington Post columnist Sally Jenkins views she said on a Sports Illustrated podcast. Sally co-wrote the two Armstrong autobiographies. In the interview she implies that what happened in our sport isn't that bad and that in the future, we're going to look back up on this as silly and that the doped riders were the victims.
Fred does a great job of addressing her lack of logic. You should click the link above. He even throws my name out there, with others, as riders that really suffered from the doping culture. I am honored.
I understand if you're not closely tied to the sport, the doping in the sport issue doesn't move you much. I don't think Sally understands that when all the pros are using drugs, they aren't just cheating the guys they are racing against. They are cheating everyone involved, the juniors that are aspiring to get to their level, the masters, everyone. All cyclists compare themselves to the top level. When that level is make believe, then it ruins the whole bell curve.
Anyway, hopefully, in the future, we will look back upon these times and think something about how different it was back then. We'll never know how it goes until that time comes along. Until then, we just need to stand the moral ground that cheating in sports is unhonorable and dishonest.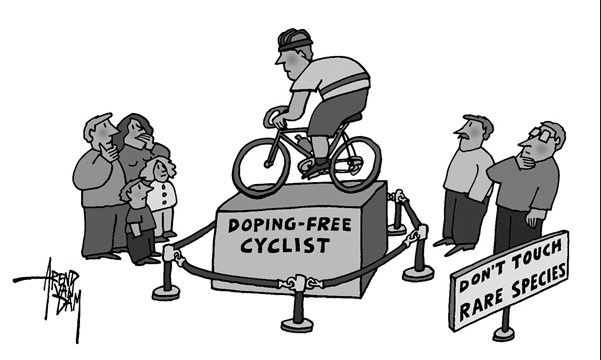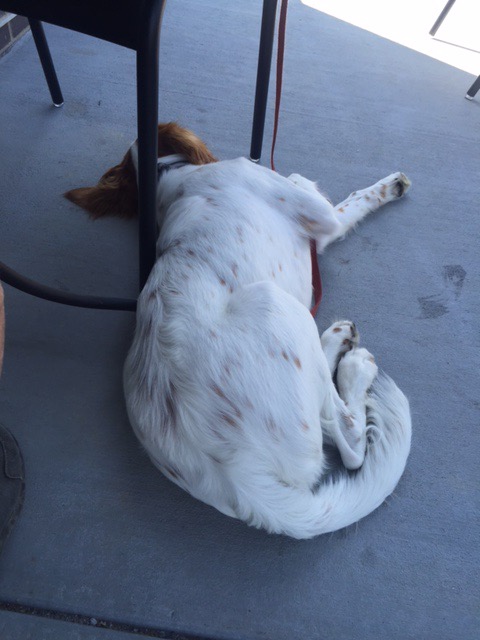 Tucker doesn't much like this 110 degree heat index thing going on here this week.