The title says it all. I've flatted 3 times in the past week. That is a record for me in races. I need to check out the tires. I know one was a cut and one was the valve stem, but the 3rd is still on the wheel and I haven't looked at it yet.
Yesterday's flat was a drag. I woke up before 6 am feeling pretty much like racing. It was a 87 mile road race around a local reservoir. Kind of hilly and kind of windy. It was a pretty good group of guys and I was really looking forward to helping young Alex win the race overall. But about 2 miles into the race, my rear tire was soft. There was one pickup truck with wheels and by the time I got a new wheel I was way too far behind, so got my wheel back and rode back to the start on a flat.
The racing was good though. It all came down to time bonus sprints because the Olathe Subaru guys kept the field together, even though it was aggressive. Dylan Postier beat Benn Stover for the stage and overall win. Alex was 3rd, 8 seconds back. Pretty close.
I posted that crash below at the Red Hook Criterium yesterday. It is so funny because that is the first most people had heard about these races. They have been going on for a while. I was looking into going to one a couple years ago. I missed the boat because lots of good "real criterium" riders are doing them now. Daniel Holloway, Aldo Ino Ilesic, Colin Stickland, who won, even Tristan Uhl, Texan MTB/Cross/Road Racer, was in the top 10. I envy those guys for making the effort to go there to race.
It is too bad that the motorcycle crash is how most of us were exposed to these races. I like the energy and freedom this race series is exhibiting. I talked to a couple of the Lupus racing guys last weekend at Joe Martin and they said that they had done Red Hook races and that they had to be super focused for the whole time. Picking the right gear, they are fixed gear races, qualifying and then the race.
I sometimes wish that "normal criterium" racing would take some deviations and try to capture some of this enthusiasm. I think that any night criterium on a short course, with a ton of corners, is super exciting. Brakes or no brakes.
Fatboy racing on MTB was exhilarating. I remember after winning the Fatboy in Scottsdale, Julie Furtado, who had done some crazy exciting sports herself, from downhill skiing, MTB cross country, National Road Champion, etc., came up to me and said that was the most exciting bike race she had ever seen. I could see in her eyes how much she loved it. The race was a lot like a Red Hook race. Less than a minute course, at night, lots of lights, on MTB's with skinny tires. And the course was lined 5 deep with spectators. There is no downside to that.
So, before you start judging these Red Hook races as ghetto bike races and a silly fad, give it a chance. It is bike racing and these guys have a ton of skill. I very much doubt that Alberto or Chris would make it a lap without paying their dues. I like it and would like to ride one sometime.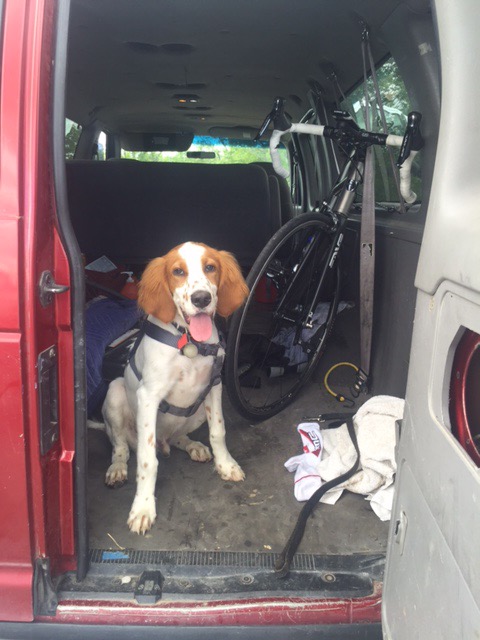 Tucker was a very happy puppy