This Nicholas Brandt-Sorensen thing from the past couple days has got me thinking about ways to handle "delicate" situations.  I don't think that they did a very good job of trying to control the outcry of Nick's behavior and punishment.
When you're trying to decrease publicity, it isn't the best thing to be doing to create more publicity.  And that is exactly what their "tactics" did.
Normally, the weekend traffic on my website is about 2/3'rds of what a normal weekday is.  This past weekend, the traffic was more than double that of a good weekend day.  So about 6X as many people saw the posts about Nicolas than would have if they wouldn't have sent a cease and desist demand email.
And, of course, Seth at Cycling in the South Bay, was going to get a little more worked up when he got his demand notice.  His post from today is here.  So everyone that races bikes in the LA area is obviously knowledgeable about Brandt-Sorensen and his problems.   This didn't work out that well for them.
From watching the history of this doping thing and the accusations and admissions, I think the best way to handle it is to admit, then disappear.  Americans are very forgiving to their fallen heroes, not that Nick is a fallen heroes.
I still can't get over how he is professing to be the  "Top most randomly no-notice bio sampled cyclist in USA".  I still don't even understand what that means.  
Is he the best no-notice bio sampled cyclist?  Or he gets tested the most?  I'm not even sure what bio sampled means.  And the weird part is that the only reason he can write this down is because he was positive for a doping violation, so he was on someone's radar screen.  That is a weird sort of bragging.  
Social media, in general, is a great source of information.  I use it all the time for tons of stuff. Results from races, how to fix things, etc.  But trying to defend yourself seems to be a losing proposition.
There was a link on my website a couple days ago to a Cyclingnews forum and there was a thread about me.  I don't usually go to these things, but didn't know what I was clicking on.  The just is below –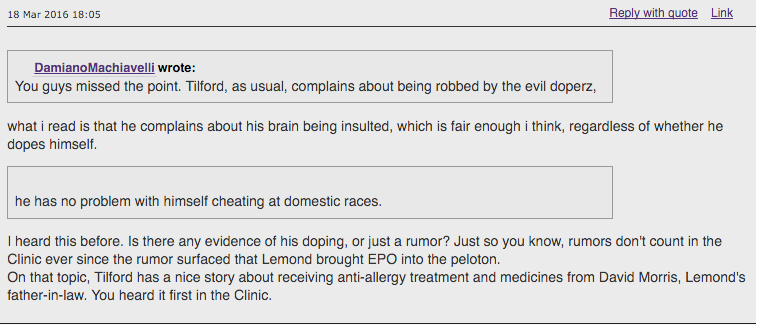 This thread talks about the first post I did about Nick and then goes off about me doping and that I cut the course in races to cheat.  Then it implies that I got "medicines" from Greg Lemond's father-in-law.  Somewhere earlier it says that Greg was the first rider that brought EPO to the cycling community in Europe.
How ridiculous is all this stuff?  It is so weird because it is sort of close to being correct, but just off a notch enough to make it absolutely wrong.  I guess that is the way rumors start.
I didn't even consider going into the forum and trying to defend myself, or Greg.  It is a losing proposition.  When I initially responded to the cease and desist email, I had a line about it would just be better if "they" just dropped the whole thing and let it die quietly.  But then thought it wasn't my business telling someone how to deal with their situation.
Okay, enough of all this.  I'm going to go out for a nice long ride and think about more productive things.  It is spring now, so everything is going to be a little brighter and fresher soon.