Last night I was pretty ill. Like violently ill, for the whole night. Man, that was an experience. I have no idea what the deal was. Trudi made stir fry at 7, then around 9 my stomach started feeling weird. By 11 pm, I was in incredible pain.
I don't see how it could have been food poisoning. 5 other people ate and they all feel great. There was no meat in the stir fry. It was on top of wild rice. Whatever.
I have never been that sick in my life. I was deliriously sick. It would come in waves, maybe 30 minutes apart. I'd think it was over, but it just kept coming and coming. I probably threw up 50 times. The last 10 or so, nothing was coming up and that is when I felt I was doing real damage.
Plus, about 3 or 4 am, I started cramping. Like all over. My right foot was cramped up for maybe 2 hours, but that was the least of my issues. I was getting hamstring cramps, thigh cramps, which I've never had, my neck, back, you name it, it cramped. Trying to hobble to the bathroom all cramped up would have been a sight to see.
Initially I was worried about my broken ribs, but that turned out to be a non-issue. Sure it felt like someone was stabbing me in the side every time I puked, but the abdominal pain was 100 fold that of the rib pain.
I thought seriously about going to the hospital around 5 am. It didn't seem right that I could be that violently ill for so long. But the hospital is in Hayward, about 30 minutes away, and by the time I'd made a decision to go, the pain had already subsided some, giving me hope it was done.
So, around 7 or 8 am, it just left as it came. Now I just feel like I got run over by a train. Pretty much just like the flu, which is a 99% improvement from the night episode. My legs are twitching like I just rode a 6 hour hot road race. It is all so strange. Plus, my stomach is making noises that would perfect for a soundtrack from Jurassic Park.
Sorry to even post this, but you know how it is, I seem to write whatever is on my mind. And I can't think of anything else, just now, than replaying the night over and over. I wouldn't wish that experience on my worst enemy. When it rains, it pours.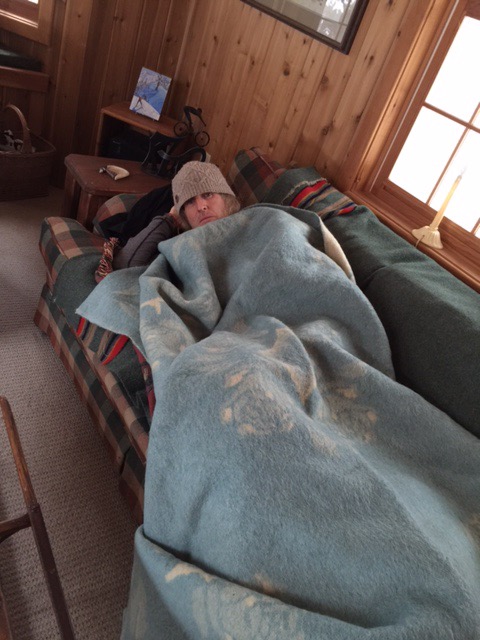 My position for the day.