I just happened upon the USAC Cyclocross Nationals Technical Guide yesterday.  Here is a link to it.  I can say that I am not that thrilled.  I like the fact that the race is being held on the Biltmore Estates.  I've had good experiences there over my lifetime.  But, the way the technical guide makes it appear, it might turn into a mess.  Here's my favorite section –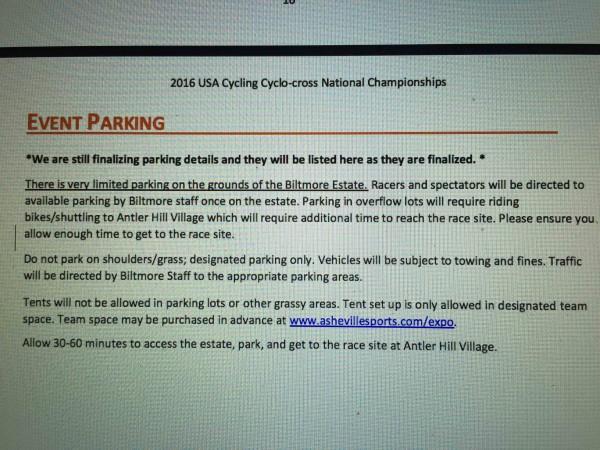 I know that everyone involved in the sport understands how equipment heavy the sport of cyclocross is.  The underlined sentence is very worrisome.  Limited parking and shuttling bikes and equipment to the venue is really just about the worst possible scenario for cyclocross.  A high priority at cross races needs to be easy access to the venue by all riders and support. There is nothing like a bunch of adrenaline jacked bike racers getting directed away from the course when they are trying to get to their race.

The guide can't say how much the wristbands are, even though it is just 2 weeks from the event when it was revised.  I called the number and couldn't get ahold of a person to ask.  Whatever the number, it is too much.  This sport isn't about milking the competitors out of every penny they can.  This is a National Championship and that is all.Entrance fees to competitors or for your family/support to enter is total BS.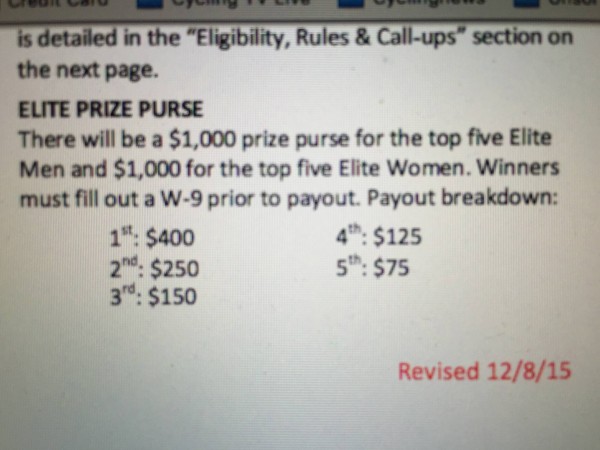 And finally, the prize list.  I don't remember there ever being a prize list, but I could be wrong. So, is this a good thing?   Not really.  Giving this amount of money out is an insult to the Elite riders.  So, if you get 5th, you get your entry back?  So, there are really only 4 places, because 5th is a push.  I won more than this for winning a Master's cross race in Oklahoma this year.  I'm thinking I won $1000 for the first MTB Nationals back in 1983.  I'll leave it at that.
I'm hoping the best for the race.  I'm sure the promoters know their responsibilities and a up to speed with most of the issues.  But when there are these disclaimers in the technical guide, it worries me. I think that the USAC should have maybe checked out the venue more if the limited parking and shuttling warnings turn out to be true.   This could turn the event into a cluster.
Just received the following email tonight  —
Parking and biking at The Biltmore Estate 
With Biltmore Estate being very large, please allow at least 45 minutes to get through the gate, into parking lots and shuttle to the event. Upon arrival, you will pass through the first Lodge Gate, then up to the second admissions gate to show your access wristband.
Vehicles with equipment to drop off near the course, will be directed to the Antler Hill Village (AHV) drop off location. You will then be directed to shuttle lots and receive shuttle service to get back to the race venue. The shuttle lots are not within walking distance. There is limited first come first serve parking at the race venue in AHV lot. Once AHV is full, vehicles will be directed to shuttles lots and transported to the course. Drop off and pick up locations will have the shuttle times, please take note of shuttle end times each day. Shuttles will not be equipped to carry bikes or other large items.
Hotel parking lots are reserved for hotel guests only.
Parking along the shoulder of roads or other non-parking areas are subject to towing and fines.
If you have a trailer/RV or other large vehicle you will be directed to a trailer overflow lot. Please note there is no overnight RV parking permitted. Trucks, trailers, vendors and expo attendees with pre-authorized AHV parking passes, will be director to AHV for designated parking.
If you wish to ride your bike to the race venue, the Biltmore is allowing bicycles on the roads specifically for our event. Road rules will apply to all bicycle traffic. There are three options for you to bike to the race venue. The Farm Trail is a weather dependent biking trail and we will send updates if this trail closes during the event to direct you to the other biking options. There will be bike valet at AHV near the expo. Please be aware there is no biking on any trails marked, private, do not enter, wrong direction, equestrian or hiking trails. Please take caution in heavy pedestrian traffic areas.
Please plan to take your time upon arrival and enjoy the beauty that Biltmore has to offer.
If you have questions please contact the Biltmore at 866-851-4661 Monday-Friday from 8:30 a.m. to 5:00 p.m.
Best Regards,