I received a few texts, emails, and comments here about the "revelation" that Och knew about the exchange of money between Lance and the Coor's Light Team after the Triple Crown in 1993.
Even Alexi came out from hiding to make a comment.  Alexi called Och a liar, saying he was there when the Coor's Light team voted to sell out.  Here's Alexi, confessing to having a "paper bag" full of money, calling Jim Ochowicz a liar.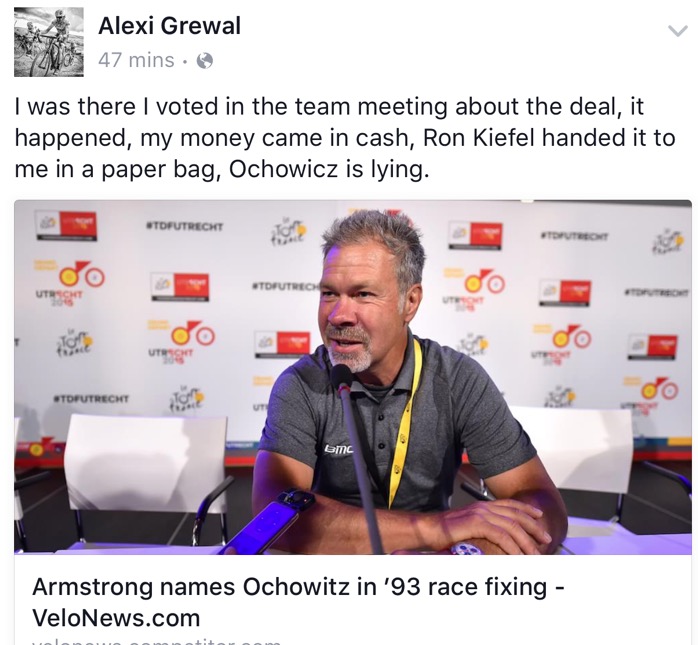 I think that really Velonews started this whole cascading surprise.  Velonews wrote this article about Lance's testimony last week about "the deal".
For me, this isn't anything new.  I wrote a post about this whole episode nearly 3 years ago to the day.  You see, I was there and witnessed the whole thing.   It was so obvious that the race/races were fixed that it didn't take a brain surgeon to know about it immediately.  What was/is amazing that they actually kept the whole thing quiet for nearly 20 years.
I think Velonews was being pretty dramatic in their headline –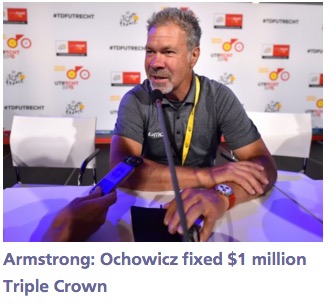 I very much doubt that is the truth.  I very much doubt that Jim Ochowicz fixed the Triple Crown, himself, as the headline implies.  I don't know really, but this isn't how these things work.  And really, it is impossible for one guy to do that.
Deals are made all the time in racing.  Vino is in trouble right now for buying a World Cup.  He is being charged in Belgium.  But, this one was different.
There was a million dollars at stake, maybe not really a million, but a big chunk of money.   And when this deal was made, there was the problem of insurance fraud. That is different than the normal trading of prize money, the guy sitting on saying he won't sprint or any of a ton of different reasons that a race might seem fixed.
I wrote another post about a time when I was having some public issues about what seemed to be a bought race.  This is the link.  Buying and selling races has been going on forever.  But there is an etiquette involved and normally the best rider, or the rider that was going to win, will win.
Anyway, do I think Alexi is right.  Partially.  He is kind of implying that Och was at a team meeting of the Coor's Light team and presented a deal.  Or at least that knew that Och knew of the deal.  He really doesn't know that.  He knows he received some money from a deal made there, but I very much doubt he talked to Och or actually knows, for sure, that Och was involved.  I think that would be very had to prove.
I think what happened was exactly what Stephen Swart said.  I think that Phil Anderson probably came up with an idea to help Lance's odds of winning all three races.  I assume that it wasn't only in Philadelphia.  I think Lance won the first  race in Pittsburg on his own.  But, in West Virginia, the racing seemed screwy when Lance got away with Michael Engleman, Coor's Light again.  From then on, it was pretty apparent.
These deals are usually done on the road, rider to rider.  This one was different because the million was awarded to whoever won two one day races and a stage race.  So, the negotiations probably took place off the bike, which isn't normal. But, I still think it was riders to riders, not team director to riders.  And I don't think it was team director to team director.  I think it was the "normal" way, rider to rider.
So do I think Och knew of the deal made during the Triple Crown to help Lance win all three races?  Absolutely.  Do I think that Och masterminded this whole thing?  No way.  If I were Jim Ochowicz, would I say to the media that I was knowledgeable of committing  insurance fraud 22 years ago?   Fuck no!
There are a ton of people involved in this whole thing.  All the riders and most likely most of the support of both the Coor's Light and Motorola teams at the race.  That would include Alexi, Roberto Gaggioli , Michael Engleman, Davis Phinney, Roy Knickman, Ron Kiefel, Stephen Swart, Andy Bishop, Phil Anderson, Lance, obviously, plus other Euro guys.  Plus Len Pettyjohn, director of Coor's Light and Jim Ochowicz.
I'm not sure why they decided to single out  Jim Ochowicz.  They, as being Lance and Velonews. Lance must have his own agenda, which no one really knows.  Velonews, I'm not sure.  They could have just called up anyone of a few guys on the list above, that live either in Boulder or nearby.  Can you imagine the headline, "Davis Phinney fixed $1 million Triple Crown"?  That would be wrong, because, it didn't happen.  It didn't happen anymore than Och did it himself.
All the parties above were complicit in the deal. Anyone of them balks, then it doesn't happen.One guy says he's going to go public, then and there, it doesn't happen.
I think it is strange that Swart and Gaggioli can't come up, within $50,000, how much money they received.
And then the smoking gun. Lance's statement –
Question: And how is it that you believe that Jim Ochowicz did that?
Armstrong: Because I heard that.
He said he heard that? And he went on –
Armstrong: — I don't know if they competed — I don't think they threw the race, but I don't know — I was so new to the sport, and that side of the sport was so new to me, I wasn't very clear on how that worked.
He was so new to the sport that he couldn't understand if Coor's Light was racing to win or not? That wasn't the best answer.  Remember, Lance won the Pro World Road Championships later that year.  And he doesn't know if they threw the race,  yet he paid them somewhere between 50-100K?
Lance saying that he was "so new to the sport" to understand the fix, is asinine.   I would have understood that deal when I was 10 years old.  Here's money, let me win.  Pretty simple.
Anyway, check out the links above.  The first one explains what I saw originally.  You know, I'm sort of thinking that Jim Ochowicz wasn't even at those races.  Don't quote me on that, but I know that no one from the Motorola team wanted to leave Europe and go to the  US to race. Andy Bishop told me that.  He said that after Lance won the first two races, the rest of the team started getting real interested in the results, so ultimately, the prize split got diluted.  And kept getting more diluted as they had to pay out more and more of it.
There were a ton of guys, like 95% of the field, that was still trying to win that race.  I would have loved to have been in a position to win any one of the three races,  but wasn't.  Obviously, this exchange of money increased Lance's odds of winning a ton.  But it really wasn't completely fixed.  Not like two boxers in a ring and one flops.  He still had to ride away from the field up Manayunk Wall.  And he did this like he was on a motorcycle.  (I'll post about this later.)  Still, the odds were changed by money exchanging hands in a sporting event, so for sure, it fits the category of being "fixed".
Anyway, I hope the statute of limitations is over for the legal aspect of this whole thing.  No one needs to go through any hardship because of what was done 22 years ago.  I'm not trying to make excuses for anyone here, especially not Och.
A lot of those guys are my friends.  It was, and is part of the sport, the behind the scenes part of the sport.  I realize, and they probably do too, that they stepped over the line. At least a line that had been made throughout the years in cycling.  I know I'm going to take a bunch of shit for that view, but that is how I feel.