On Sunday, I drove over to Leadville to meet up with Brian and Trent Newcomer, a friend from Fort Collins, to pre-ride the first half of the Leadville 100 race.   Trent is the vet that initially treated Bromont.  Both Brian and Trent are racing Leadville next weekend, so they wanted to get a big day riding.
I'd never ridden any of the course, so was completely oblivious to what was in store.  I had ridden nearly six hours the day before, so I was a little worried that I was going to be too beat to really enjoy the pre-ride.
Brian was planning on ridding the first 60 miles of the race, which was going to take 4-5 hours. There was a worry that it was going to start raining around noon and we started riding at 8 am.
Leadville is an out and back course.  52 miles out and then back on the same course.  It seems a little screwy without having seen the actual race, but I guess it works.
The race starts out on pavement, mainly downhill a little, then it starts climbing.  The first climb, which is less than 10 miles out is pretty hard.  At least it seemed hard on Sunday.  I was feeling a little flat and it hurt.  But, it isn't that long, maybe 10 minutes.  Then you descend on a double track and finally a big descent on a road.
A few miles later you climb up the backside of the Powerline climb.  The backside is tame, nothing really to worry about.  You get a beautiful view of Turquoise Lake.  The descent down Powerline is very tricky.  Super steep and rutted.  Lots of places to really get into trouble. I have a very hard time believing that everyone that is racing/riding Leadville can get down this descent on their bikes.
We stopped at the bottom and climbed back up the steep part at the bottom.  This is the place that lots of guys dab and have to walk some.  I didn't have any trouble getting up it, but I didn't have 75 miles of racing in my legs.  But, it is steep, like first gear, tip of your seat steep.
Then it is fun.  More flat riding, a little climbing, finally some singletrack and then the Columbine Climb.  Columbine wasn't nearly as hard as I'd anticipated.  It is really tame most of the way up. The last couple miles, maybe 1 1/2 miles, it is once again steep.  Granny gear steep, you have to pick your line or you can get into trouble.  This is nearly a 3000 foot climb and I think it takes over an hour.  The top bit on Strava took me around 16 minutes, so under 6 miles an hour.  This tops out over 12000 feet, maybe a few hundred feet higher.
You get to the top and then descend a few hundred meters to a turn around and then climb back up the couple hundred meters and then the long descent down to 9500 feet again.
The first two miles is fast and technical.  Then it is just open road.  But the problem is, during the race, is that you're going down against traffic, the whole way down.  I tried to ride on the right side of the road the whole descent, but sometimes it wasn't good.  Lots of times I was going close to 40 mph, so going against a bunch of oxygen starved riders is probably going to be sort of scary.  I wonder if they have ever had some serious collisions on Columbine?
We just rode to the bottom of Columbine and Michelle, Brian's wife was there with their car. We'd done over 60 miles and it was just starting to rain.
Overall, when I was done, we had averaged right at 13 mph.  And we'd done 7500 feet of climbing out of the 12000 total of Leadville.  So we were riding around an 8 hour pace.  Todd Wells won last year in 6:16.  Brian was 7th, 39 minutes back, and Bill finished 20th, another 23 minutes back on Brian.  So there are huge time gaps.
I'm hoping to get in around 7 hours.  I've never done a race that long, time-wise.  I'm not thinking I have a chance to win the race.  This really isn't a good race for me.  High altitude, long steady climbs, not very much technical aspect.  But, I think I'm good enough at longer mountain bike races.  At least I have been.  I guess this is a bucket list race now.  It never really was on my bucket list, but I am doing it now.
I headed over to Leadville again yesterday.. I rode the first 24 miles, to the bottom of Powerline again, then back up the whole climb.  The bottom, like I said above, is super steep.  I did it in under 6 minutes, which is probably race pace for me.  I think this was close to a 40 minute climb, but it's not very long.  Same deal, under 6 miles per hour.  I was sort of done about 2 1/2 hours into the ride.  It took me 3:30 to do 48 miles, but it was super windy on the open sections.  I didn't have another 50 miles in me yesterday.
I think the more I ride over 10000 feet the better.  My sore throat is pretty much gone.  In the morning, it bothers me some, but after I drink something, I kind of forget about it the rest of the day.  Last week I did end up with over 30 hours of riding, with half of it off-road.  It was less than 500 miles, but 200 miles off-road, climbing slow.  And it was just around 38000 feet of climbing.
I've been trying to climb sitting down always.  I historically don't climb that well seated.  I have made a concerted effort to just sit and climb.  It cramps up my butt, so I have to stand when it levels out when I have a chance.  I have gotten much better, I think.  On the top, steep part of Columbine, Brian and I were only 3 minutes off Todd's best time on Strava.  And we could have gone faster.  But, again, it was only training, not racing.  I'm sure I am going to be way more gassed during the race.
I am more worried about staying well the next week and a half than the race.  The race will take care of itself.  If anything, I need to be fresh next Saturday.  There is no upside to being tired at the start of this race.
Anyway, it should be fun.  I am having a catch 22 about sitting out here, at altitude, for nearly a month for this race.  I would like to have a good race, but, like I said, it isn't the best race for my talents. But, maybe my talents have morphed a little the last month, so I might surprise myself. That is one of the best things about the sport.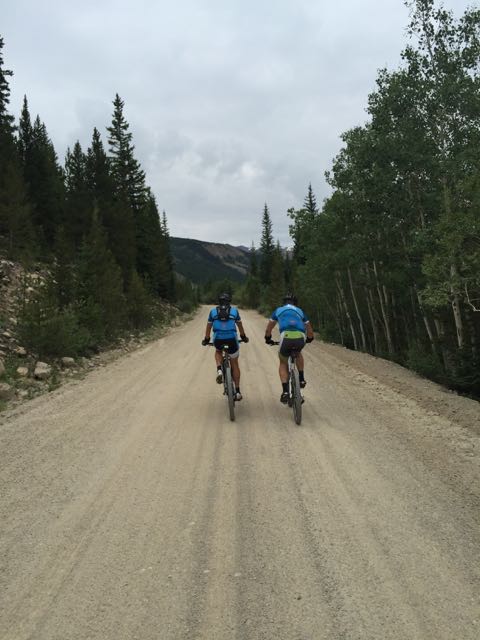 Trent and Brian on one of the gravel roads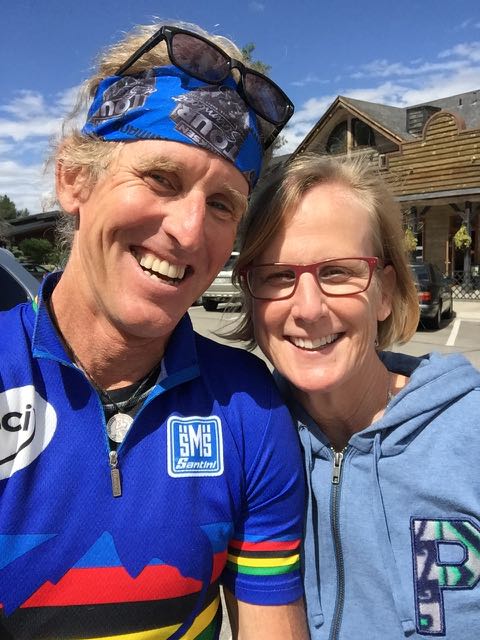 My friend, Laura Peycke was in town for the Copper Triangle ride. I rode over                               to Frisco to catch up on Monday.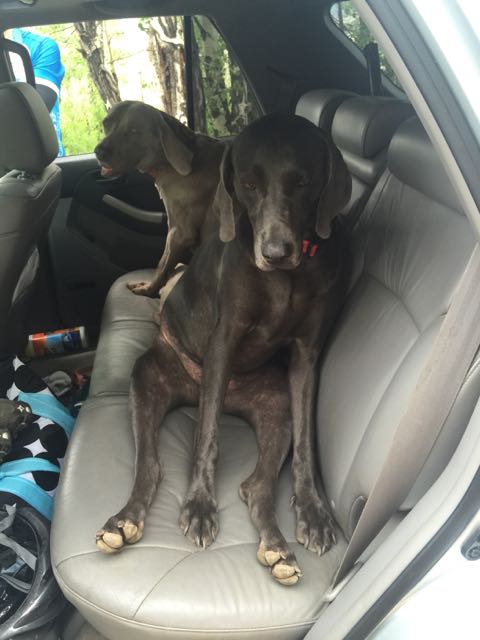 Brian and Michelle's puppies patiently waiting for the crew.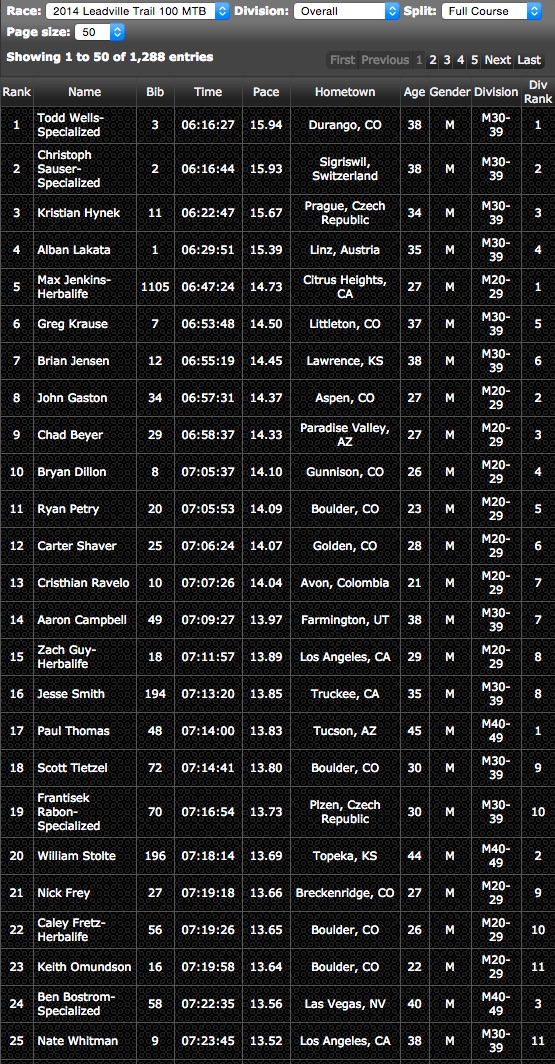 Leadville results from last year.